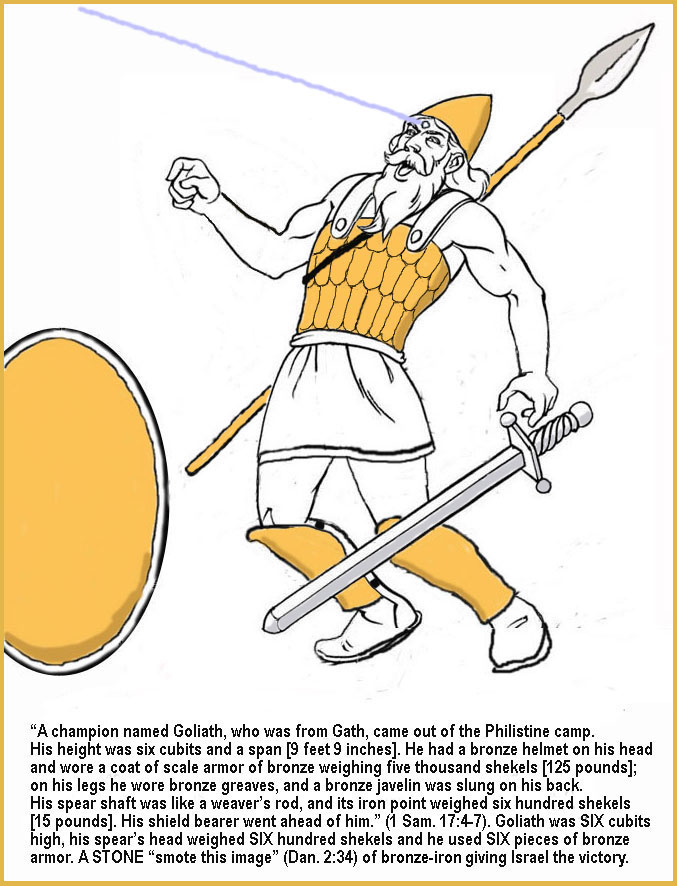 Was King David A Type of Christ?

1. Both were born in Bethlehem. David (1 Sam. 16:1-4) and our Lord Jesus. "But you, O Bethlehem Eph'rathah, who are little to be among the clans of Judah, from you shall come forth for me one who is to be ruler in Israel, whose origin is from of old, from ancient days." - Micah 5:2
2. Both were shepherds. Psalms 78:70–71 says, "He chose David his servant, and took him from the sheepfolds: From following the ewes great with young he brought him to feed Jacob his people, and Israel his inheritance." The Messiah is often spoken of as the shepherd of God's people. Isaiah 40:11 says, "He shall feed his flock like a shepherd." Isaiah 49:9–10 says, "They shall feed in the ways, and their pastures shall be in all high places. They shall not hunger nor thirst; neither shall the heat nor sun smite them: for he that hath mercy on them shall lead them, by the springs of water shall he guide them." Jeremiah 23:4–5 says, "And I will set up shepherds over them which shall feed them… I will raise up unto David a righteous Branch, and a King shall reign and prosper, and shall execute judgment and justice in the earth." Ezekiel 34:23, "And I will set up one shepherd over them, and he shall feed them, even my servant David; he shall feed them, and shall be their shepherd." Ezekiel 37:24, "And David my servant shall be king over them; and they all shall have one shepherd." Canticles 1:7, "Tell me, O thou whom my soul loveth, where thou feedest, where thou makest thy flock to rest at noon."Ezekiel 34:23: And I will set up over them one shepherd, my servant David, and he shall feed them: he shall feed them and be their shepherd.

3. Both were beloved. The name "David", signifies "Beloved." David was God's elect. Saul was the king whom the people chose (1 Samuel 8:18 and 1 Samuel 12:13). But David was the king whom God chose, and contrary to what men would have chosen. When Jesse caused all his elder sons to pass before Samuel, God said concerning them, "The Lord hath not chosen this, neither hath the Lord chosen this," [1 Samuel 16:8–10]. See 1 Chronicles 28:4: there David says, "The Lord God of Israel chose me before all the house of my father to be king over Israel forever: for he hath chosen Judah to be the ruler; and of the house of Judah, the house of my father; and among the sons of my father he liked me to make me king over all Israel." (See Psalms 78:67–70.) "And when he had removed him, he raised up unto them David to be their king; to whom also he gave their testimony, and said, I have found David the son of Jesse, a man after mine own heart, which shall fulfil all my will" (Acts 13:22). Our Lord Yeshua is beloved also and will fulfill God's will. Isaiah 42:1 says, "Mine elect, in whom my soul delighteth; I have put my spirit upon him: he shall bring forth judgment to the Gentiles," Matt. 3:17 says, "And lo, a voice came from Heaven, saying, "This Is My Beloved Son, In Whom I Am Well Pleased."

4.Both were God's anointed (or messiah). First Samuel 16:13 says, "And Samuel took the horn of oil, and anointed him in the midst of his brethren: and the Spirit of the Lord came upon David from that day forward." Also 2 Samuel 22:51 says, "He showeth mercy to his anointed, unto David." And 2 Samuel 23:1 says, "David the son of Jesse… the man who was raised up on high, the anointed of the God of Jacob." Psalms 89:19–20 says, "I have exalted one chosen out of the people. I have found David my servant; with my holy oil have I anointed him." David's anointing remarkably agrees with what the prophecies say of the anointing of the Messiah, who speak of it as a being anointed with the Spirit of God. So David was anointed with the Spirit of God at the same time that he was anointed with oil.

5. Both were poor. In 1 Samuel 18:23, David says, "I am a poor man, and lightly esteemed." In 2 Samuel 7:18, David says, "Who am I? and what is my house, that thou hast brought me hitherto?" Our Lord was "a root out of a dry ground" (Isa. 53:2) and a "low tree" (Ezekiel 17:24).

6. Both were unimpressive to look at. David's outward appearance did not promote confidence in his ability to rule or achieve victory. On the contrary, his appearance tended to cause men to despise him. This is why we read in 1 Samuel 16:7, "Look not on his countenance, or on the height of his stature… for man looketh on the outward appearance, but the Lord looketh on the heart." 1 Samuel 17:42 says, "And when the Philistine looked about, and saw David, he disdained him: for he was but a youth." Saul said in 1 Samuel 17:56, "Inquire whose son this stripling is." Eliab, his elder brother, thought him fitter to be with the sheep than to come to the army (1 Samuel 17:28). Our Lord's outward appearance is described in Isaiah 53:2, "He shall grow up before him as a tender plant, as a root out of a dry ground: he hath no form nor comeliness; and when we shall see him, there is no beauty that we should desire him." David's appearance was astonishing to Goliath and to Saul, and Samuel expected a man of great stature. Yet David was not ugly, since he was ruddy and of a fair countenance, and goodly to look to (1 Samuel 16:12 and 1 Samuel 17:42) and our Lord may be described in Psalms 45:2, "Thou art fairer than the children of men." Canticles 5:10 says, "My beloved is white and ruddy, the chiefest among ten thousands."
7. Both cast out demons. When Saul was persecuted by an evil spirit, David was able to dispel it by playing a harp just as Jesus Christ cast out demons."And it came to pass, when the evil spirit from God was upon Saul, that David took an harp, and played with his hand: so Saul was refreshed, and was well, and the evil spirit departed from him" (1 Sam. 16:23).

8. David defeated Goliath by crushing his head with a [sling-propelled] stone. Christ is the stone that smites the image on his feet (Dan. 2) and will crush the head of Satan the serpent (Gen. 3).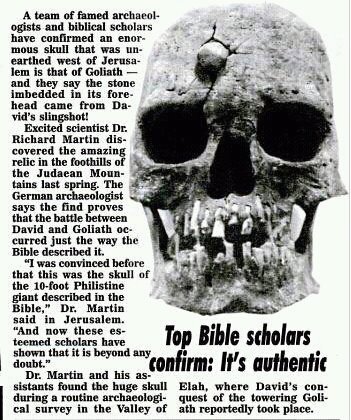 9. Just as David was the sole representative for Israel and fought against Goliath and won (1 Sam 17:8-11), so Jesus Christ was the sole representative for Israel and fought against sin and won victory over death. Rom 5:18-19 says, "Consequently, just as the result of one trespass (Adam's) was condemnation for all men, so also the result of one act of righteousness (Jesus') was justification that brings life for all men. For just as through the disobedience of the one man the many were made sinners, so also through the obedience of the one man the many will be made righteous."
10. Just as David was sent by his father to the battle (1 Sam 17:8-9), so Christ was sent by his Father to the battle. First John 4:14 says, "And we have seen and testify that the Father has sent his Son to be the Savior of the world."
11. Just as David was rejected by his brothers (1 Sam 17:28), so Christ was also rejected by his brothers. John 7:5 says, " 'For not even His brothers were believing in Him." David was hated and envied by his brethren and misused by them when he came to them on a kind errand from his father, to bring them provision. In this way, he resembled the Messiah, as Joseph did.
12. Just as David had fought the lion (Babylon gold) and the bear (Medo-Persia silver) when they had come against his flock and was trained by these past experiences to now defeat the bronze (Greece) and iron (Roman) metal statue called Goliath (1 Sam 17:33-37), so also our Lord Jesus had to learn from the things He suffered. Even though He was God, he lived on this earth as a man – yet in total dependence upon His Father as man had been created to live. And as a man He had to learn obedience! Heb 5:8 says, "Although He was a Son, He learned obedience from the things which He suffered." He will be the stone that smites the metal statue of pagan human rule (gold, silver, bronze, and iron) and then sets up his kingdom.
13. Just as David's victory was Israel's victory (1 Sam 17:51-53), so also our Lord's victory is our victory. Romans 5:19 says, " For as through the one man's disobedience the many were made sinners, even so through the obedience of the One the many will be made righteous."
When Saul saw David returning from his victory, he says over and over with great admiration concerning him, "Whose son is this youth?" (1 Samuel 17:55), "Inquire whose son this stripling is" (1 Samuel 17:56), "Whose son art thou?" (1 Samuel 17:58). In the same way, Psalms 24:8 asks, "Who is this king of glory?" Again Psalms 24:10, and Isaiah 63:1 ask, "Who is this that cometh from Edom, with dyed garments from Bosrah? this that is glorious in his apparel, travelling in the greatness of his strength?" When our Lord returns, he will wage battles and win. The daughters of Israel went forth to meet King David and sang praises to him when he returned from the slaughter of the Philistine. In the same way, Christians will sing prises to our Lord when he returns (Psalm 24 & 68 etc.).
14. Both were and are kings in exile [or suffering servants (Isa. 53)]. David was greatly persecuted and his life was sought unjustly. This agrees with our Lord's life. Just as David was victorious but didn't become king immediately, but was king in exile, so also our Lord died, was resurrected victorious, and remains in exile for 2000 years, yet to return. 1 Sam 22:1-2 says, "David left Gath and escaped to the cave of Adullam. When his brothers and his father's household heard about it, they went down to him there. All those who were in distress or in debt or discontented gathered around him, and he became their leader. About four hundred men were with him."

In fact, He is a King in exile while another King (Saul) whom God has rejected still seems to have authority over the throne. Judgement has been pronounced upon King Saul because of his pride and disobedience, yet for the mean time he still reigns. What does this picture? We live in a world where its ruler, Satan (called the God of this world, the prince of the power of the air), has been judged because of his pride and disobedience. This happened at the cross as we read in Col 2:15 'When He had disarmed the rulers and authorities, He made a public display of them, having triumphed over them through Him.' And even though Jesus is the true King, like David was in this passage, he is not yet reigning upon this earth. He is a King in exile so to speak. Rev 11:15 'And the seventh angel sounded; and there arose loud voices in heaven, saying, "The kingdom of the world has become the kingdom of our Lord, and of His Christ; and He will reign forever and ever."
15. Just as "All those who were in distress or in debt or discontented gathered around him (David), and he became their leader. About four hundred men were with him" (1 Sam. 22:2), so also "ye see your calling, brethren, how that not many wise men after the flesh, not many mighty, not many noble, are called" (1 Cor. 1:26-29) and gather around Christ our Lord. Those who find it hard to fit in to Satan's world are often Christians.

Following David meant associating themselves with one who wasn't popular. It meant trials, and hardship, yet once David came into his kingdom, it was all completely worth it! And so it is with Christians. How strange it can be to live in one world, and not be a part of it, while following a different king! A King who is the rightful ruler, yet one who has not yet come to take possession of His kingdom. Yet we know, like David's men, the rightful king will one day come into His kingdom and on that day we shall be rewarded for our service. Please read 1 Chronicles chapter 11 and 12. Notice how everyone who helped David is named and rewarded! So it shall be with us.
David's host is compared to the host of God (1 Chronicles 12:22). David, as it were raised from the dead, was wonderfully delivered from death when in great danger, was brought back from the wilderness and from banishment and from caves of the earth that resembled the grave. Psalm 30:3 says, "O Lord, thou hast brought up my soul from the grave" just as the Messiah was resurrected from death.
David's followers, that came to him to make him king, were men of understanding, mighty men of valor, and men of a perfect heart (1 Chronicles 12). This is also the case with Christians. David was made king by the choice both of God and his people (1 Chronicles 11:1–3 and 1 Chronicles 12; 2 Samuel 2:4, 2 Samuel 5:1–3). This agrees with the prophecies of the Messiah. Hosea 1:11, "Then shall the children of Judah and the children of Israel be gathered together, and appoint themselves one head." David was made king with great feasting and rejoicing (1 Chronicles 12:39–40). This is what will happen also at the return of our Lord and the introduction of the Kingdom of God.
16. Next David captured Jerusalem, which was controlled by the Jebusites, and established its capital there. Ever after it would be known as The City of David. When Jesus our Lord returns, he will make Jerusalem his capital and call it by his name.
17. David was victorious in battle. "The Lord gave David victory wherever he went" (1 Chr 18:13). "By the hand of my servant David will I save my people Israel out of the hand of the Philistines, and out of the hand of all their enemies" (2 Sam. 3:18). He defeated the Philistines, capturing Gath, and defeating the Edomites, the Moabites, the Arameans, Hadadezer king of Zobah, and numerous other tribes. (See 2 Samuel 7:9 and 2 Samuel 8:6, 2 Samuel 8:14; 1 Chronicles 17:8, 1 Chronicles 17:10 and 1 Chronicles 18:6, 1 Chronicles 18:13; 2 Samuel 22:1–20). First Samuel 16:18, says "Behold, I have seen a son of Jesse, a mighty valiant man."

The same will be true of Christ our Lord (Psalm 2, Psalm 45, Psalm 110, and Psalm 89) Invincible. Psalm 45:3 says, "Gird thy sword upon thy thigh, O most mighty, with thy glory and thy majesty." Isaiah 63:1, "Who is this travelling in the greatness of his strength? I that speak in righteousness, mighty to save." And in this very thing the Messiah is compared to David. Psalms 89:19–20 says, "I have laid help upon one that is mighty; I have exalted one chosen out of the people. I have found David my servant."
18. King David had at least eight wives named in Holy Scripture as a type of the church marrying Christ. The first, Michal, Saul's daughter, is noted for scorning David's prophetic dance upon receiving the Ark of the Covenant; this is why she was said to be barren. The second, Abigail, had lived with her husband Nabal in Carmel when David came through in his flight from Saul. While Nabal refused any aid, Abigail secretly interceded, bringing David many supplies. Afterwards, when Abigail told her husband of the help she had given David, he dropped dead from (seemingly) a heart attack, leaving Abigail free to marry David. The other wives listed (see 1 Chr 3) were Maacha, daughter of Talmai king of Geshur; Haggith; Abital; Eglah; and Bathsheba, mother of Solomon. He also took "more wives" in Jerusalem. In all, 1 Chronicles lists by name nineteen sons of David. David's marriage with Abigail, the wife of a son of Belial, a virtuous woman and of a beautiful countenance, parallels our Lord marrying the church of Christ -- now freed from a state of guilt and bondage to sin (Nabal -- fool).
19. King David was fair and just. He did right in God's sight (1 Kings 15:5), a man after His own heart (Acts 13:22), one whose heart was perfect with the Lord his God (1 Kings 11:4); one that went fully after the Lord (1 Kings 11:6); one that did that that was right in the eyes of the Lord (1 Kings 15:11, 2 Kings 18:3, 2 Chronicles 28:1 and 2 Chronicles 29:2). He is spoken of as pure and upright and righteous; one that had clean hands; that kept the ways of the Lord and did not wickedly depart from God (2 Samuel 22:21–27). For example, David rewarded all of his men equally, even those too exhausted to continue the chase, after his great victory over the Amakelites (1 Sam 30:23). This episode may be seen as reminiscent of Christ's Parable of the Workers in the Vineyard (Matthew 20). He refused to ever touch his adversary King Saul as an example of submission to those in authority, was furious about the rape of Tamar, and lamented the death of his rebellious son Absalom, whom he had ordered that no one injure, etc. David insulted the idols as lame and blind and destroyed them (2 Samuel 5:21). Christ will be a fair and just king that will make all others pale by comparison.

20. David was of a humble, meek and merciful spirit (1 Samuel 18:23; 2 Samuel 6:21–22; 2 Samuel 7:18; 1 Samuel 24; 1 Samuel 26; 2 Samuel 2:5, 2 Samuel 2:21, 1, 2 Samuel 4:9–12 and 2 Samuel 7:18; 2 Samuel 22:26). This agrees with what is said of the Messiah, Zechariah 9:9, "He is just, and having salvation; lowly, and riding on an ass, and a colt the foal of an ass." Isaiah 42:3, "A bruised reed shall he not break, and the smoking flax shall he not quench: he shall bring forth judgment unto truth." Isaiah 40:11, "He shall gather the lambs with his arm, and carry them in his bosom, and shall gently lead those that are with young." Isaiah 53:7, "He is brought as a lamb to the slaughter, as a sheep before his shearers is dumb, so he opened not his mouth."

21. David was a person that was eminent for wisdom and prudence. First Samuel 16:18 says, "Behold, I have seen a son of Jesse… prudent in matters." First Samuel 18:5 says, "And David behaved himself wisely." First Samuel 18:14, "And David behaved himself wisely in all his ways." 1 Samuel 18:30 says, "David behaved himself more wisely than all the servants of Saul." Psalms 78:72 says, "He guided them by the skilfulness of his hands." This agrees with our Lord who is wise (Isaiah 9:6, Isaiah 11:2–3 and Isaiah 41:28–29 with Isaiah 42:1, Isaiah 52:13, Zechariah 3:7).
22. We read in Psalm 132:11-12: "The LORD swore to David a sure oath from which he will not turn back: "One of the sons of your body I will set on your throne. If your sons keep my covenant and my testimonies that I shall teach them, their sons also forever shall sit on your throne." (ESV, emphases added) Our Lord Yeshua is a descendant of David and will sit on that throne: "Let all the house of Israel therefore know for certain that God has made him both Lord and Christ, this Jesus whom you crucified" (Acts 2:29-36 ESV). Now He graciously shares His throne with all who are united to Him by faith, as we read in passages such as Ephesians 2:6, "God raised us up with Christ and seated us in the heavenly realms in Christ Jesus," and Revelation 3:21, "To him who overcomes, I will give the right to sit with Me on My throne, just as I overcame and sat down with My Father on His throne." David says of himself, 1 Chronicles 28:4, "The Lord God of Israel chose me to be king over Israel forever." And God says to him, 2 Samuel 7:16, "And thine house and thy kingdom shall be established forever before thee: thy throne shall be established forever."

23. David was betrayed by Ahithophel who was a friend who ate at David's table, and who later turned against him (Ps. 41:9). He was David's counselor and adviser. David wrote of him: "For it was not an enemy that reproached me; then I could have borne it: neither was it he that hated me that did magnify himself against me: then I would have hid myself from him: But it was thou, a man mine equal, my guide, and mine acquaintance. We took sweet counsel together, and walked unto the house of God in company" (Ps. 55:12-14). Ahithophel was highly honored in David's court. Ahithophel was the father of Eliam, who was the father of Bathsheba, the wife of Uriah the Hittite (2 Sam. 23:34, 11:3). Ahithophel was Bathsheba's grandfather. Eliam and Uriah were numbered among the top 30 valiant men in David's army and were part of the palace guard (2 Sam. 23:23,34,39). That is why Bathsheba lived close to the king's palace. David murdered a valiant soldier and a trusted, intimate friend when he killed Uriah. But why did Ahithophel turn against David? Possibly he induced Bathsheba to take a bath on a rooftop, just at the right time to be seen by the king. If David were to be seduced to marry Bathsheba, Ahithophel would become part of the royal family. After he saw David's repentance for his sin with Bathsheba, Ahithophel took his chances with Absalom instead. Absalom, David's son, conspired to remove David from his throne: "And Absalom sent for Ahithophel the Gilonite, David's counsellor, from his city, even from Giloh, while he offered sacrifices. And the conspiracy was strong; for the people increased continually with Absalom" (2 Sam. 15:12) . Absalom had stolen the hearts of the people, probably with the advice of Ahithophel (verse 6). When Absalom led an army against Jerusalem, David fled for his life (verses 13-14). Then verse 31: "And one told David, saying, Ahithophel is among the conspirators with Absalom. And David said, O Lord, I pray thee, turn the counsel of Ahithophel into foolishness." (Ahithophel's name means "foolishness."). Furthermore, David asked Hushai, another trusted friend and adviser, to return to Jerusalem instead of fleeing with him (2 Sam. 15:32). Why? "But if thou return to the city, and say unto Absalom, I will be thy servant, O king; as I have been thy father's servant hitherto, so will I now also be thy servant: then mayest thou for me defeat the counsel of Ahithophel" (verse 34). Hushai did give counsel contrary to Ahithophel's and Absalom followed it. This saved David's life and ultimately led to David being restored as king over Israel. (See 2 Samuel 17-19). When Ahithophel found that his counsel was rejected, he realized Absalom would be defeated, so he hanged himself (2 Sam. 17:23). The delay in attacking David meant David could regroup his forces and win back his throne. Then Ahithophel would be executed as a traitor. He could not stand the thought of the punishment that would come upon him and the disgrace upon his family. In his state of depression he, like Judas Iscariot, committed suicide. Christ later quoted this psalm, "He that eateth bread with me hath lifted up his heel against me" (John 13:18; Psalm 41:9) in referring prophetically to Judas. And here, too, is the story of a true friend and counselor of David, Hushai, a man who remained loyal to him, just as the other apostles remained loyal to Christ.