• Goat
-- Greece (Daniel 8:21); Islam
•
Grass
-- "All flesh is grass" (Isa. 40:6).
• Grace
-- Unmerited favor; gift of God (Eph. 2:20)
• Grove
-- Obelisk or steeple. Isis the wife of Osiris honored his phallic member by setting up images of it in temples for worship (Eusebius Preparation For Gospel, p.60) after Typhon (Shem) had cast it into a river.
• Generation
-- "three score and ten" (Ps. 90:10; Matt. 24:34 from 1948-2018) (70 years); forty years (Nu. 32:13; Matt. 24:34 from 31-70 AD); 100 years (Gen. 15:13-16; Acts 7:6); 30 years Gemini to Gemini (360° months/12 months per year = 30° years).
• Gossip
-- "Thou shalt not bear false witness against thy neighbor" (Ex. 20:16). Even the truth can be gossip (Dan. 6:13) when revealing secrets to others who don't have a need to know about someone who isn't dangerous because he has repented (Ex. 23:1). But warning others who have a need to know about a real danger is lawful when the sinner hasn't repented (1 Tim. 5:20). This isn't gossip.
• Gold
-- Pure Character Precious and Rare (Isaiah 13:12; Dan. 2:38); Immortality "I shall come forth as gold when tested" (Job 23:10; 1 Pet. 1:7); "The law of thy mouth is better unto me than thousands of GOLD and silver" (Ps. 119:72) "It is difficult to distinguish true friendship from that which is counterfeit, unless something occur to try it as gold is tried in the fire." (Cicero Epist. fam. 9:15) Pliny the Elder mentioned that gold is the only metal not harmed by fire. "The precious sons of Zion, comparable to fine gold; how are they esteemed as earthen pitchers, the work of the hands of the potter" (Lam. 4:2).
• God
-- "God is love" (1 John 4:8). "He is the Rock! His work is perfect, For all his ways are just; A God of faithfulness without iniquity (injustice), Just and upright is He." (AMP) Depending on varying circumstances and variable people, He can be merciful (1 Chr. 16:34; 2 Chr. 30:9; Lam. 3:22); unmerciful (1 Sam. 6:19; 1 Sam. 15:2-3; Jer. 13:14; Heb. 12:29); spares the righteous (Ez. 18:9,19; 33:19); slays the righteous with the wicked (Ez. 21:3-4); grants our prayers (Luke 11:10; James 1:5); won't listen to our prayers (Isa. 1:15; Micah 3:4; James 4:3); cannot lie (1 Sam. 15:29; Heb. 6:18); sends forth lying spirits (1 Ki. 22:19-23); is good to all (Ps. 145:9); hated Esau (Mal. 1:2-3); laughs at sinner's overthrow (Pr. 1:26); has no pleasure in it (Ez. 18:32); fearful to fall into his hands (Heb. 10:31); not fearful (2 Sam. 24:14); His anger slow and brief (Ps. 30:5; 103:8-9); fierce and lasting (Nu. 25:4; 32:13; Ps. 85:5); peaceful (Rom. 15:33; 1 Cor. 14:33); warlike (Ex. 15:3; Isa. 51:15); hardens men's hearts (Josh. 11:20; Isa. 63:17; John 12:40; Rom. 9:18); they harden their own hearts (Pr. 28:14; Heb. 3:8); punishes men for their own deeds (Deut. 24:16; Ez. 18:4,20; Rom. 2:5-6); punishes for others' deeds (Ex. 20:5; Josh. 7:24-26; Ez. 18:2); a respecter of persons (Ps. 138:6; Gen. 4:4-5); not a respecter of persons (2 Chr. 19:7 Deut. 10:17; Acts 10:34; Rom. 2:11; Eph. 6:9; 1 Pet. 1:17); tempts men (Gen. 22:1; 2 Sam. 24:1; Matt. 6:13); does not tempt them (James 1:13); the author of evil (Isa. 14:7; Jer. 18:11; Lam. 3:38; Ez. 20:25; Am. 3:36); not the author of evil (Deut. 32:4; Ps. 5:4; Jer. 29:11; 1Cor. 14:33); etcetera.
• Harlot
-- Apostate Church/religion (Isaiah 1:21-27, Jeremiah 3:1-3; 6-9)
• Heads
-- Major powers/rulers/governments (Isa. 7:8-9); ancient and honorable rulers (Isa. 9:14-15); mountains (Revelation 17:3, 9-10)
• Hair
-- Subjection (1 Cor. 11:10)
• Hill
-- Small nation (Micah 4:1-3; Isa. 2:1-3)
• Hurrah
-- The word "shout" in the KJV is from the Hebrew "Haru" which has become the English Hurrah
• Horse
-- Strength & Power in Battle (Job 39:19, Ps 147:10, Pr 21:31); White --False Prophet; Black -- death; Red -- War; Pale (Green) -- Sickness (Matt.24; Rev.6)
• Horn
-- King or kingdom (Daniel 7:24; 8:5, 21-22, Zechariah 1:18-19, Revelation 17:12)
• Horn (Little)
-- Papacy or Islam (Dan. 7)
• Honey
-- happy life (Ezekiel 20:6, Deuteronomy 8:8-9)
• Hand
-- Deeds / Works / Actions (Ecclesiastes 9:10, Isaiah 59:6)
• Healing
-- Salvation (Luke 5:23-24)
• Harvest
-- End of World (Matthew 13:39)
• Hour of Temptation
-- Called "hour" because 15
°
of a 360
°
zodiac day is 1/24 of the time (15 x 24 = 360). Seven years from 21 Jan 2017 till 4 Jan 2024 during which the United States (Virgo -- Virginia) in particular will drink from a venom-poisoned cup (COVUS [cobra venom] from seven-headed hydra snake) and have liberties taken away (purple-cord bound [quarantine & isolation] and gagged [masked]) and be jailed (Corvus is a jail bird behind red radius bars for disobeying mandates) and suffer death (vaccine side effects -- flag at half mast). Kosher slaughter of Americans because inspected by a Rabbi.
• Hyksos
-- Manetho explains "Hyksos" as "Prince of the Shepherds." His authorities evidently called the invader Shiku-Shasu -- "Princes of the Beduin." (Ancient History of the Nearer East by Hall). That sounds alot like "FIRST of the NATIONS." "Amalek the FIRST of the NATIONS; but his latter end shall be that he perish forever." (Numbers 24:20). "FIRST of the NATIONS" (Hyksos) refers to their position and ranking at that time, since they were not great in earlier times (their forbearer was Esau) like the Babylonians, Assyrians, and Egyptians. They were Arabians (Against Apion 1:52). Specifically Amalekites (pp. 64-65, Ages in Chaos). Their king Agag (Nu. 24:7) was known as Apop (Manetho). This is because the early Hebrew letters g (gimel) and p (pei) show a striking resemblance, both looking like the number 7 (Ages in Chaos, p.72).
• Hebrew
-- One who CROSSES over: "Abraham the Hebrew" (Gen. 14:13) (into the Promised Land). It is due to the CROSS of Christ that we pass from worldly and unconverted to Bible-followers.
• Hatred
-- It is wrong to hate a brother (Lev. 19:17; 1 John 2:9) "without a cause" (Matt. 5:22). It is murder (1 John 3:15). However, it is right to "hate evil" (Pr. 8:13) people. "I hate them with perfect hatred" (Ps. 139:22). Anybody who hinders righteousness including "father, mother, wife, children, brothers, sisters" and even your "own life" (Luke 14:26) should be "hated" in some sense.
• High Places of the Earth
-- Isaiah 58:13-14 says, "If thou turn away thy foot from the sabbath, from doing thy pleasure ("desire" or will -- #2656 of Strong's) on my holy day, and call the sabbath a delight, the holy of the Eternal, honorable, and shalt honor him, not doing thine own ways, nor finding thine own pleasure (will), nor speaking thine own words (cp.Isa.55:8-9); Then shalt thou delight thyself in the Eternal; and I will cause thee to RIDE UPON THE HIGH PLACES OF THE EARTH (high places "in PRAISE, and in NAME, and in HONOR" -- Deut.26:19. Also, the high places OF DIVINE WORSHIP -- 1 Ki.3:2; and DEFENSE -- Isa.2:15; and GOVERNMENT -- Jer.51:24-25)
• Heritage of Jacob
-- To "feed thee with the HERITAGE OF JACOB thy father" (Isa. 58:14) means the "LAND" -- Ex.6:8; ETERNAL LIFE -- Ps.61:4-8; God's "TESTIMONIES" -- Ps.119:111 and VICTORY -- Isa.54:17. "If you be Christ's (a Christian), then you are Abraham's seed, and heirs according to the promise" (Gal. 3:29). "Blessed are the meek, for they shall inherit the EARTH" (Matt. 5:5). "The promise to Abraham or to his descendants" was "that he would be heir of the WORLD" (Rom. 4:13).The WORLD itself was the "HERITAGE OF JACOB," since in him and his seed "all the families of the EARTH were to be blessed" (Gen 28:14). To own the EARTH "forever" (Gen. 13:15) implies eternal life (Ps. 61:4-8) by obeying his testimonies (Ps. 119:111). "If thou wilt enter into life, keep the commandments" (Matt. 19:17). "Not every one that saith unto me, Lord, Lord, shall enter into the kingdom of heaven; but he that doeth the will of my Father which is in heaven" (Matt. 7:21).
• Heaven
-- Government (Rev. 10:1) The SUN, MOON and STARS are political leaders. "His THRONE shall endure as the SUN before me, it shall be established ... as the MOON" (Ps. 89:36-37). The "Lord shall punish ... the HIGH ONES ...the KINGS ... Then the MOON shall be confounded, and the SUN ashamed" (Isa. 24:21-23). The Lord's "fury" is "upon all their ARMIES ... all the HOST of HEAVEN (government) shall be dissolved ... fall down" (34:2-4). "Spiritual wickedness in the HEAVENLIES" (Eph. 6:12). "The LIGHT of the wicked shall be put out" (Job 18:5). As Jesus said, "After the tribulation of those days shall the SUN be darkened, and the MOON shall not give its light, and the STARS shall fall from heaven" (Jerusalem destroyed 70 A.D.) (Matt 24:29). Eusebius describes the ruling Roman GOVERNMENT as "celestial powers, the SUN, the MOON and the STARS" (Eccl. Hist. 10:4). The father is SUN or chief ruler, mother is the MOON and children are STARS or subordinate (Gen. 37:9-10). EARTH is "all flesh" (Gen. 6:11-12).
• Incense
-- prayers of saints (Rev. 5:8; Ps. 141:2); red radius stick of incense with lunar white smoke or solar brass holder. Perfume incense was offered on golden altar twice a day (Ex. 30:34-38; 25:6; 37:29)
• Ignorance of the law
-- is an excuse since "
to him who knows to do good
and does not
do it,
to him it is sin
" (James 4:17) and "If
you
were blind,
you
would have no
sin
; but now
you say
, '
We see
.'
Therefore your sin remains
." (John 9:41) "And that servant, which knew his lord's will, and prepared not
himself
, neither did according to his will, shall be beaten with many
stripes
. But he that knew not, and did commit things worthy of stripes, shall be beaten with few
stripes
. For unto whomsoever much is given, of him shall be much required: and to whom men have committed much, of him they will ask the more" (Luke 12:47-48). "If I had not come, and spoken to them, they would not have
sin
; but now they have no excuse for
their sin
" (John 15:22).
• Inverse Square Law
-- Intensity of SOUND is inversely proportional to the square of the distance from the source of sound to listener. Intensity of LIGHT is inversely proportional to the square of the distance from observer to source of light. GRAVITATIONAL force is inversely proportional to the square of the distance from the center of the planet to the center of the sun. MAGNETIC force is inversely proportional to the square of the distance between two magnetic poles.
• Isaac's sons
-- SAXONS by race (Gen 21:12; Am.7:16) or by grace (Gal. 3:29; Eph. 2:12-13). Since the Hebrew alphabet was originally written without vowel points, there was no "I" in ISAAC. "If ye be Christ's, then are ye Abraham's seed" (Gal. 3:29) -- SAXONS by grace. Sharon Turner declared that the birthplace of the SAXON tribes is located in the very neighborhood where the Israelites were taken captive. He says, "They were a German or Teutonic, or Gothic race. Of the various (so-called Scythic) nations which have been recorded, the Sakai or Sacae are the people from whom the descent of the Saxons may be inferred, with the least violation of probability. They seized Bactriana, and the most fertile part of Armenia, which, from them, derived the name Sakasina. That some of the divisions of this people were really called Sakasuna is obvious from Pliny; for he says that the Sakai who settled in Armenia were named Sacassani, which is but Sacasuna; and the name which they gave to that of Armenia which they occupied is nearly the same sound as Saxonia. It is also important to remark, that Ptolemy mentions a Scythian people, sprung from the Sakai, by the name of Saxons." (KS = X; Amos 7:16)
• Idolatry
-- Obedience is worship (Deut. 8:11). Whoever you obey is your god (Matt. 4:10). Therefore obedience to evil men is idolatry. Even if the order itself is harmless, the act of obeying the order is not harmless. What would normally be right to do becomes wrong since it is perceived as submission to evil men. DISOBEY because "Like a polluted fountain is a righteous man who GIVES WAY before the wicked" (Pr. 25:26). "For YOU TOLERATE IT, if a man orders you around, takes what is yours, puts on airs of superiority or slaps you on the face" (2 Cor. 11:20). Obedience to evil men is idol worship. DO NOT CONFORM even if the command is not in itself wrong. Perception is everything (Deut. 9:28; 1 Ki. 20:28: Pr. 26:5). Submission lends legitimacy to the arrogant and presumptuous tyrant. Don't buy the toy for your spoiled brat. Let him cry and pout instead. Buying a toy is not normally wrong, but God "opposes the proud" (James 4:6) and so should we. The presumptuous and arrogant demeanor of the one giving the command is itself enough cause to DISOBEY even an otherwise innocent command. DISOBEY self-appointed tyrants lest your obedience be misunderstood as GROVELLING SUBMISSION and therefore idol worship. Don't encourage and strengthen the hands of evildoers (Jer. 23:14).
• Jordan
-- death (Romans 6:4, Deuteronomy 4:22)
• Jerusalem (above)
-- mother of us all (Gal. 4:26)
• Jar-Vessel
-- Person (Jer. 18:1-4, 2 Cor. 4:7); human body a house of clay (Job 4:19).
• Jericho
-- Not only the corrupt Canaanite city that fell (Josh. 6), but the fall of the Roman Empire (Rev. 17) and the fall of the United States (Rev. 18) also
• Jacob's Trouble
-- Jacob's Trouble (Jer. 30:7) will be a "week" of "seven years" (Gen. 29:27) for Israelites before the marriage to Christ.
• Jew
-- "He is a Jew who is one inwardly and circumcision of the heart" (Rom. 2:29); "salvation is of the Jews" (John 4:22). Paul called himself a Jew (Acts 21:39; 22:3) after he accepted Christ as his Lord and Saviour and after he received the Holy Spirit.
• Judging
-- is commanded: "Know ye not that we shall judge angels? how much more things that pertain to this life?" (1 Cor. 6:3) and "he that is spiritual judgeth all things" (1 Cor. 2:15) and "judge righteous judgment" (John 7:24) versus condemned: "Judge not, that ye be not judged" (Matt. 7:1). What is the synthesis? We are not able to read another person's mind or determine their intent. We can't judge thoughts. But we can judge a tree by its fruit (Luke 6:43-45) -- words and actions. But the judge had better be righteous since "why beholdest thou the splinter that is in thy brother's eye, but considerest not the log that is in thine own eye?" (Matt. 7:3).
• Keys
-- of knowledge (Luke 11:52); of David (Rev. 3:7); of kingdom (Matt. 16:19); but not perfectly understood at "Caius College" (Latin). Janus (Nimrod) and Cybele (Semiramis) each had a key to supposedly open the doors of the kingdom of heaven. The key was the mark of sacred or civil office. Ancient keys were of great size, and might well be borne upon the shoulder. Aratus compares the constellation Cassiopeia to a key. "When the bi-folding door the warder bars, His crooked key depicts her glittering stars." (Aratus Phaen. v. 192)
• Kindness Toward Evil
-- God "
HATEST
all workers of iniquity" (Ps. 5:5) but he "makes his sun to rise on
EVIL
and good and sends rain on just and
UNJUST
" (Matt. 5:45). Jesus washed the feet of the twelve and
JUDAS
was one of them. Our own parents were kind and generous to us as children. Did we deserve their kindness? Therefore, balance these facts against such warnings as not to "strengthen the hands of
EVILDOERS
" (Jer. 23:14) and "ShouIdest thou
HELP
the
UNGODLY
, and
LOVE
them who
HATE
THE
ETERNAL
? Therefore, there is
WRATH
UPON
THEE
from before the Eternal" (2 Chr.19:2). "If a man comes to you and does not bring this teaching, do not receive him into the house and you shall not say to him, "You are welcome." Whoever welcomes such a person
SHARES
in his
EVIL
deeds" (2 John 1:10-11). Only those who keep the commandments abide in his love (John 15:10; 14:21-23). As Tobit said, "Scatter your bread on the graves of the
UPRIGHT
, but do not give to
SINNERS
" (4:17). Or as Jeshua said, "Give to the
GODLY
man, and do not help the
SINNER
; Do kindness to the
HUMBLE-MINDED
, and do not give to the
UNGODLY
... so that he may not come to control you with it" (Ecclesiasticus 12:5). "It is not meet (right) to take the
CHILDREN'S
bread, and to cast it to the
DOGS
" (Matt. 15:26). "Don't mistreat foreigners. You were foreigners in Egypt, and you know what it is like" (Ex. 23:9). Where you draw the line with others is where it will be drawn for you. We should love our neighbor as ourselves (Matt. 19:19) and who is our neighbor? Luke 10:37 defines a "
NEIGHBOR
" as "He that showed mercy" (or "kindness" -- RSV) toward you.
• Kingdom of God
-- A literal kingdom with Jerusalem as its capitol (Jer. 3:17) and Christ as its King (Luke 1:32-33) ruling the entire earth (Rev. 5:10) for a thousand years (Rev. 20:4), speaking one pure language (Zeph. 3:9) using Biblical laws to govern (Matt. 5:19-20). Not of this world now (John 18:36). Only those saints who OBEY the Bible NOW will qualify to rule with Christ our Lord in the future (Dan. 7:18). The BRITISH EMPIRE foreshadows the Kingdom of God (Hosea 12:10). Also the human kingdom of Israel from Moses through Solomon till captivity foreshadowed the Kingdom of God (1 Sam. 12:12; 1 Chr. 28:5). As truly as the four kingdoms (Babylon, Medo-Persia, Greece and Rome) were material, human kingdoms, so surely is the FIFTH STONE Kingdom a real material kingdom ruled over by kings, and made up of men. The Gospels teach TWO KINGDOMS of God. First notice the human, PHYSICAL Kingdom of ISRAEL: The "kingdom (physical) shall be taken from you, and given to a (physical) nation bringing forth the fruit thereof" (Matt.21:43). "Whosoever shall fall upon this (physical) stone shall be broken: but on whomsoever it shall fall, it shall grind him to (physical) powder" (Matt. 21:44). This is the Israelite "stone cut out without hands" (Dan. 2:45). Now notice the references to the SPIRITUAL Kingdom of HEAVEN: "But "my kingdom is not of this world (spiritual)" (John 18:36). "Except a man be born again, he cannot see the kingdom of God (spiritual)" (John 3:3). "The kingdom of heaven (spiritual) is at hand" (Matt. 3:2)."Like a grain of mustard seed (spiritual)" (Matt. 13:31). "And I say unto you, That many shall come from the east and west, and shall sit down with Abraham, and Isaac, and Jacob, in the (spiritual) kingdom of heaven. But the children of the kingdom (physical) shall be cast out into outer darkness: there shall be weeping and gnashing of teeth" (Matt. 8:11-12). "Flesh and blood cannot inherit the kingdom of God, nor can corruption inherit incorruption" (1 Cor. 15:50). "Do you not know that the unrighteous will not inherit the kingdom of God? Do not be deceived. Neither fornicators (date rape), nor idolaters (x-mass tree), nor adulterers, nor homosexuals, nor sodomites, nor thieves (non-tithers), nor covetous (pornography), nor drunkards (pot smokers also), nor revilers ("ministers" who ignore one side of an argument), nor extortioners will inherit the kingdom of God" (1 Cor. 6:9-10).
• Kronos
-- Kronos (aka Belus -- Eusebius Prep For Gospel, p.375) castrated and deposed his father Uranos according to Hesiod's Theogony. This parallels the Noah story: Uranos, like Noah, is a patriarch responsible for populating the world. Uranos's youngest son (Ham) performs a shameless act against him, like Noah's youngest son, Ham, does to him. Uranos has another son named Iapetos, the Greek equivalent to Noah's son Japheth (Yapet). Japheth and his offspring represent the Greeks and other European groups.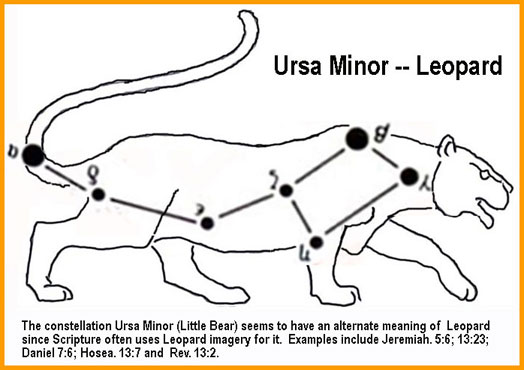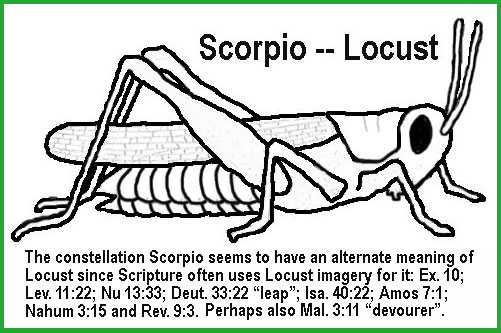 • Lamb
-- Jesus / sacrifice (John 1:29, 36; 1 Corinthians 5:7)
• Lion
-- Babylon (Jeremiah 50:43-44, Daniel 7:4,17,23)
• Lascivious
-- licentious (Jude 4); sensually unbridled; libertine; lewd; lawless; immoral. For example, visiting temple prostitutes and having drunken orgies.
• Let
-- Restraint (2 Th. 2:6); 476 AD when Roman Emperor Romulus Augustulus was "taken out of way" (to Constantinople) to make room for "Man of Sin" (Pope).
• Leopard
-- Greece (Daniel 7:6)
• Leprosy / Sickness
-- Sin (Luke 5:23-24)
• Locusts
-- kings and captains of armies (Nahum 3:15-17)
• Law of Moses
-- First five books of the Bible (Luke 24:44; Acts 28:23)
• Love
-- keep his commandments (1 John 5:3); walk after his commandments (2 John 6)
• Lust
-- There is nothing wrong with lusting after delicious food (Deut. 14:26) or a beautiful virgin if you both are unmarried. "Sex appeal" was created by God. But don't lust after another man's wife (Matt. 5:28; Job 31:1). Such coveting is idolatry (Eph. 5:5; Col. 3:5), so pornography is idolatry if the woman in the picture is married.
• Leaven
-- Sugar (sweet, unleavened) turned to CO2 & alcohol (sour, puffed up) by fermentation (corruption). Doctrine of Pharisees & Sadducees (Matt. 16:12); hypocrisy (Luke 12:1); malice & wickedness (1 Cor. 5:8). A substance that causes dough to rise is leaven. For instance, sodium bicarbonate (NaHCO3) when heated by baking, decomposes to produce gas (CO2) which forms bubbles in the batter making it rise. Water (H2O) is another byproduct.
• Lying
-- Abraham lied about Sarah (Gen. 20:2), jewish midwives lied (1 Cor. 10:11), Rahab lied about spies (Josh. 2:1-16), David deceived Ahimelech (1 Sam. 21:2), etc. and these were "examples unto us" (1 Cor. 10:11) of protecting the innocent. But those who lie to defraud (Col. 3:9; Rev. 22:15) will not inherit the kingdom.
• Lamp
-- Word of God (Psalms 119:105). To "remove thy lampstand" (Rev. 2:5) or to have one's "lamp put out" (Job 18:6; 21:17; Pr. 24:20) or "walk in darkness" (Isa. 59:9) refers to Scripture being taken away so a person is unable to follow Jesus (John 8:12) while to "light my lamp" (Ps. 18:28) is to give Scripture to a person.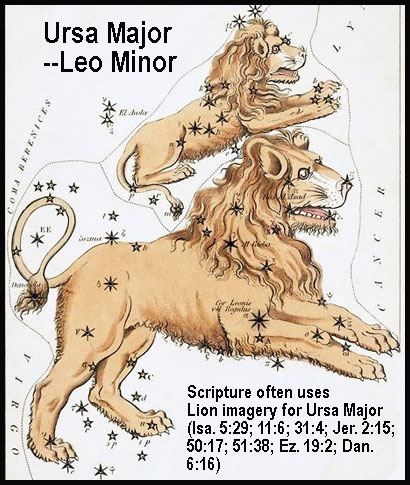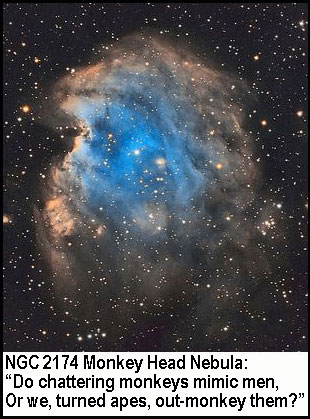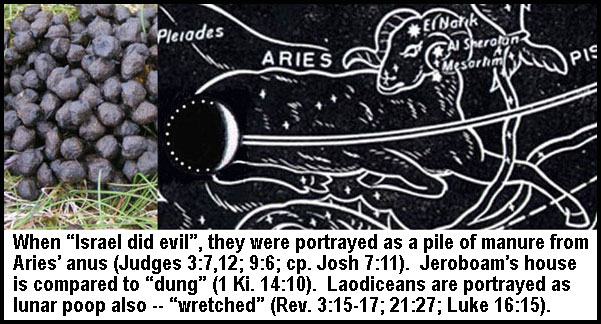 • Mountains
-- kingdoms or governments (Isaiah 2:2-3, Jeremiah 17:3; 31:23; 51:24-25, Ezekiel 17:22-23, Micah 4:1; Daniel 2:35, 44-45)
• Mark
-- Sign or seal of approval or disapproval (Ezekiel 9:4, Romans 4:11, Revelation 13:17; 14:9-11; 7:2-3)
• "Ministration of Death"
-- Carrying out the death penalty, usually by stoning (2 Cor. 3:7)
• Milk
-- "as newborn babes, desire the sincere milk of the word" (1 Pet. 2:2).
• Music
-- Notice "when the evil spirit from God was upon Saul, that David took an harp, and played with his hand; so Saul was refreshed, and was well, and the evil spirit departed from him" (1 Sam. 16:23). Notice "when the minstrel played ... the hand of the Lord came upon him" (2 Ki. 3:15) and he prophesied.
• Mulberry Tree
-- "Canis Minor" (2 Sam. 5:23-24; 1 Chr. 14:14-15; Rev. 11:4)
•
Monkey
-- A monk (minister) monkeying around in his monkery; he throws monkey wrenches into the works whenever someone tries to obey the Bible. He turns blue in the face trying to convince others to blindly obey him rather than the Bible. Policemen have a similar problem. Monkey business. Rules for me but not for thee. Turning a blind eye to perpetrator's crimes while sticking victim under microscope.
• Mouth
-- "Out of the abundance of the heart the mouth speaks" (Matt. 12:34; cp. Pr. 15:28; Pr. 18:4); "For as he thinketh in his heart, so is he" (Pr. 23:7).
• Memorials
-- Ex. 12 & Lev. 23 define the Sabbath & holy days as memorials, not shadows. "This do, in REMEMBRANCE of me" (Luke 22:20) "from year to year" (Ex. 13:10), once a year (Luke 2:42), not weekly on Sunday (Acts 20:7), or "as often as you" (1 Cor. 11:26) want.
• Mongrelization
-- God's way is everything "AFTER ITS KIND" (Gen. 1:11). "God is not the author of confusion" (1 Cor. 14:33). Exodus 20:14 is a direct command against INTERRACIAL MARRIAGE. It says, "Thou shalt not commit ADULTERY." WHAT DOES "ADULTERATE" mean? "To corrupt, debase, or make IMPURE by an ADMIXTURE of baser materials; as, to adulterate liquors, or the coin of a country" (Webster's 1828 Dictionary). The Hebrew word for "ADULTERY" means "to commit ADULTERY" (Strong's #5003). If the seventh commandment merely means "extramarital sexual relations," then it is redundant since the tenth commandment also says, "Thou shalt not covet thy neighbor's wife." Deuteronomy 22:10 says, "Thou shalt not plow with an ox and an ass TOGETHER." (a marriage of different types) Leviticus 19:19 says, "Thou shalt not let thy cattle gender (breed) with a DIVERSE KIND: thou shalt not sow thy field with TWO KINDS OF SEED." Deuteronomy 22:9 tells us we shouldn't MIX SEED, "lest the fruit ... be DEFILED." This is not written for the sake of plants and animals only, but "for our sakes" also (1 Cor. 9:10).
• Milky Way
-- The MILKY WAY (a long green streak bordered by two white streaks) is "WHITE HAIR" (Rev. 1:14), "WHITE RAIMENT" or "WHITE ROBES" (1:13; 3:4-5,18; 4:4; 6:11; 7:9; 19:8), the AL-CAN highway (3:10), SPUTUM (3:16), an "EMERALD RAINBOW" (4:3; 10:1), a green "SEA of GLASS" (4:6; 7:1,3; 15:2) a white "CLOUD" (10:1; 11:12; 14:14), a "SCROLL" (5:1-9; 6:14; 10:2,8-10), the green trunk of a "FIG TREE" (6:13), a "GREAT MULTITUDE" (7:9), the "SMOKE" of "INCENSE" (8:4) or of the "PIT" (9:2) or of "TORMENT" (14:11) or of "GOD" (15:8) or of "HER BURNING" (18:9,18; 19:3) and "FIRE from the ALTAR" (8:5), "GREEN GRASS" (8:7), a "GREAT MOUNTAIN" (8:8), a "STAR FELL" (8:10; 9:1), "STREET" (11:8), "FLOOD" (12:15-16), white "SAND of the (green) SEA" (13:1; 20:8), "FIRE COME DOWN" (13:13; 20:9), "MOUNT ZION" (14:1), BITTER HERBS (16), Christ's "ARMIES" in white uniforms; the world's "ARMIES" in green uniforms (19:14,19), a "GREAT CHAIN" (20:1), "GOG and MAGOG" (20:8) and the green "RIVER of WATER of LIFE" (21:6; 22:1; 22:17). The STARS symbolize "CLOUDS" (1:7), "EYES" (4:6-8), weeping TEARS (5:4; 7:17; 18:11; 21:4), FALLING "STARS" (6:13; 12:4), or "FIGS" (6:13), a "SCROLL" rolled up (6:14), falling "ROCKS" (6:16), 144,000 "SERVANTS OF OUR GOD" (7:3; 14:1), "HAIL" (8:7; 11:19; 16:21), the "SEAL OF GOD" (9:4), "200,000,000 HORSEMEN" (9:16), "GENTILES" (11:2), a "MARK" (13:16; 14:9-11; 15:2; 19:20), "GRAPES" (14:18), "SORES" (16:2,11), HOLES in matzah (16), "GOLD, SILVER, PRECIOUS STONES and PEARLS" etc (17:4; 18:12,16), "ARMIES" (19:14,19), "FOWLS" (19:17), "SOULS" (20:4), "CAMP of the SAINTS" (20:9), the "DEAD" (20:12-13) and "LEAVES" (22:2).
• Moon
--The MOON'S position in the zodiac makes it a part of the constellation it is travelling through. "And there shall be (Zodiac) signs in the sun, and in the moon, and in the stars" (Luke 21:25).The CRESCENT is a "HORN" (Rev. 5:6; 9:13) on Capricorn, or a "SICKLE" (14:14), or a two-edged "SWORD" (1:16; 2:12,16; 6:4; 19:15,21) that comes as a thief in the night (3:3) in the hand of Sagittarius. Two opposing CRESCENTS form a "BOTTOMLESS PIT" (9:2). The HALF MOON phase or thereabouts is a "BOWL" (16:2), or "CUP" (17:4; 18:6) in Virgo's hand. The gibbous phase is a BUCKET LID (11:6) or CROWN (3:11). The FULL MOON is a "LAMPSTAND" (2:5; 21:23), "WHITE STONE" (2:17), "MANNA" (2:17), "EYE SALVE" (3:18), "SEAL" (7:2; 10:4) or "MILLSTONE" (18:21). The DARK MOON in eclipse is a "SEAL" (7:2), "WOUND" (13:3), "BOTTOMLESS PIT" (20:1), or "LAKE OF FIRE" (20:10). The MOON is a "DOOR" or "GATE" that opens (FULL) and closes (CRESCENT or NEW) (3:7-8;20; 4:1; 11:19; 15:5; 19:11; 21:13). It is a "MOUTH" that opens (full) and closes (crescent) in a frown or smile (12:16; 13:5) or "BOOKS" (20:12), "FRUIT" (22:2) or "PEARLS," black or white, (21:21) in any lunar phase.
• Meddling
-- "Strive not with a man without cause, if he have done THEE no harm" (Pr. 3:30). "Who are you to judge ANOTHER MAN'S SERVANT?" (Rom. 14:4). Proverbs 20:3 says, "It is an honor for a man to keep aloof from strife, but every fool will be MEDDLING" (KJV & RSV). "He that passeth by, and meddleth with strife NOT BELONGING TO HIM, is like one that taketh a dog by the ears" (Pr. 26:17). When Christ was asked to arbitrate a dispute, he said, "Man, who made me a judge or a divider over you?" (Luke 12:14). When Peter enquired about the personal future of John, Christ said, "If I will that he tarry till I come, IS THAT YOUR BUSINESS? Follow thou me" (John 21:22; KJV & Phi.).The definition of MEDDLING is giving unwanted help and advice when you have no right. It is the opposite of MEDALLING -- earning a medal in an athletic contest. When other people MEDDLE in your life, you then have a right to MEDAL in their life.
• Millenium
-- The word "millennium" is derived from two Latin words:
mille,
meaning "thousand" and
annus,
meaning "year."
Millennium
therefore means "thousand years." We read in 2 Peter 3:8 that "one day is with the Lord as a thousand years, and a thousand years as one day." Also, "a thousand years in thy sight are but as yesterday" (Ps.90:4). Revelation 20:1-7 mentions a period of "a thousand years" during which Satan is chained and the saints live and rule with Christ. This thousand-year period is called a "rest" which Christians can "enter into" if they aren't "disobedient" (Heb.4:1,6,10,11; ASV, Gspd, Moffatt, Ber, Bas). Just as God physically created the earth in six literal days, making man in his physical image, and rested on the seventh day, so also he is creating his spiritual image of moral character in man for 6000 years before the Millenium when man will have a chance to rest. The Sabbath is "a shadow of things to come" (Col. 2:16-17). The penalty God threatened Adam with was that, "in the day thou eatest thereof thou shalt surely die" which caused Adam as well as all his descendants to die within 1000 years of their birth. A week is therefore 7000 years.
• Neighbor
-- Anybody who is kind to you (Luke 10:25-37).
• Navigate
-- To go from point A to point B on a map using a compass for direction, a watch for time and a speedometer for rate of speed where speed (mph) times time (hrs) equals distance travelled (in miles).
• Nakedness
-- One's wife (Lev. 20:11,20,21)
• Nimrod
-- From Hebrew "MERED" to REBEL (e.g. "murder"; "marauder"). Ninus since he built Nineveh (Gen. 10:11) and Nineveh means "Habitation of Ninus" (Spanish Nino -- child) or Marduk or Merodach or Mars. "Osiris was black" (Plutarch De Isid. et Os. 2:359). Bacchus (holding a wine cup-- Heb. khus) means son of Cush (Anacreon p. 296) -- Nimrod.
• Naamah
-- Noah's wife, seduced (Lev. 18:6) and taken by Ham to Babylon where she became Noah's Nemesis (Naamah + Isis: Gen. 4:22) -- like the whore of Rev. 17 with wine cup in her hand to make Noah (and the world) drunk. Kronus (Ham) used a sickle to castrate and depose Uranus (Noah), his father, with the help of Gaiea (Naamah) his mother.
• Name
(My)
-- Defined as "KEPT MY WORD and hast NOT DENIED MY NAME" (Rev. 3:8). Also "IN WORKS THEY DENY ME being abominable and reprobate" (Tit. 1:16). "You will be hated by all because of MY NAME" (Matt. 10:22) defined as keeping my commandments.
• New Song
-- After David had been "brought ... up ... out of an horrible pit," he said that God "hath put a NEW SONG in my mouth" (Ps. 40:3). David also said, "I will sing a NEW SONG unto thee, O God ... who delivereth David, his servant, from the hurtful sword" (Ps. 144:9-10; cp. 33:3; 96:1; 98:1; 149:1). Therefore, a "NEW SONG" means "a new DELIVERANCE" from some kind of trouble. But in type the "NEW SONG" was the British NATIONAL ANTHEM -- "God Save The King" composed in 1652. By the Act of Settlement in 1689, it was once and for all determined that the British monarch must be a Protestant. That was something to SING about. At succeeding coronations, the monarch was required to take the Oath that he will defend the Protestant Faith and maintain the Act of Settlement. In 1910 the Declaration was "watered down."
• Oil
-- Holy Spirit (Zechariah 4:2-6, Revelation 4:5;1 Sam. 16:13; John 16:13; 1 John 2:27)
• Olive Trees
-- witnesses (Rev. 11:3-4)
• Olympus
-- From Omphial meaning "the oracle of the god Ham" perverted in time to Omphalos by the Greeks and Umbilicus by the Latins. Thus Delphi, the grove of Jupiter Ammon, Enna, the island of Calypso, and many other places of similar nature all had the title Omphalos, or Umbilicus and were absurdly supposed by the poets to be the center of the earth, as the navel, they thought, was in the midst of the human body. Olympus is a variant of Omphalos, being composed of the same radical elements slightly transposed. This blissful mountain is a memorial of Eden where God talked to man.
• Oannes
-- Satan spoke to Eve through the serpent (Heb. Ha Nahash) in the Garden of Eden. Later a fish-like man taught Babylonians. Berossus speaks of Oannes as a "daemon." Oannes is the Greek form of the name, and as there is no "h" in Greek, Ha Nahash would become anaas and with the article -- Oanaas. He taught them about "all kinds of (witch) crafts"? How to "establish (ziggurat) temples" and (Babylonian) "laws"? When a Philistine idol of Oannes (Dagon) fell down before the Ark, "only the fishy part" was unbroken (1 Sam. 5:4; YLT).
• Pale horse
-- Roman disease and pestilence (Matt. 24:7); green (Greek chloros).
• Pythagorean Theorem
-- For any 90 degree triangle, length of side A squared + length of side B squared = length of hypotenuse squared
• Purple
-- Royalty (Mark 15:17, Judges 8:26)
• Paycheck
-- A bribe to forget your dreams and morals. A leash to keep you as a slave of men. A string to control you as a puppet.
• Peace
-- "Salama" or Islam (Dan. 8:25).
• Prevent
-- Precede (1 Th. 4:15).
• Pillar
-- prophet, apostle or wise patriarch (Gal. 2:9; Pr. 9:1)
• Pirate
-- "Illegal" radio stations from "pirate ships" (e.g. Radio Caroline; Radio London) allow gospel to be preached to Britain (Pirates of Penzance)
• Pride --
Human "pride" is bad (James 4:6; Jer. 9:23) but godly "pride" is good (2 Cor. 7:4; Gal. 6:4) Boasting about self is only appropriate when others wrongly belittle you. Also when God works miracles through you, false modesty is blasphemy (Rom. 15:17).
• Planets
-- The visible PLANETS (moon, sun, Jupiter, Venus, Mars, Saturn, Mercury) form a seven-branched MENORAH held by Sagittarius (Rev. 1:12,20; 2:1; 3:1); a scroll with SEVEN SEALS (5:1); a SEVEN-HEADED DRAGON when they are near Hydra (12:3; 17:3,7); or seven "GOLDEN GIRDLES" on seven angels who are given SEVEN "CUPS" of freedom (the second Passover cup -- ten plagues) from Aquarius (15:6-8; 16; 21:9)
. Balak built SEVEN ALTARS for sacrifice to seven planets (Num. 23:1-25). They imagined the SEVEN DAYS of the week to be under the respective influences of the seven luminaries (Herod. 2:82; Dio Cassius Can. Chron. p. 448)
.
• Quiet
-- Jacob was a quiet man (Heb. "tam" ) or tame -- civilized (Gen. 25:27)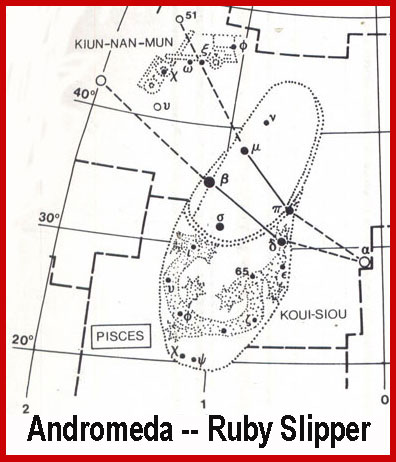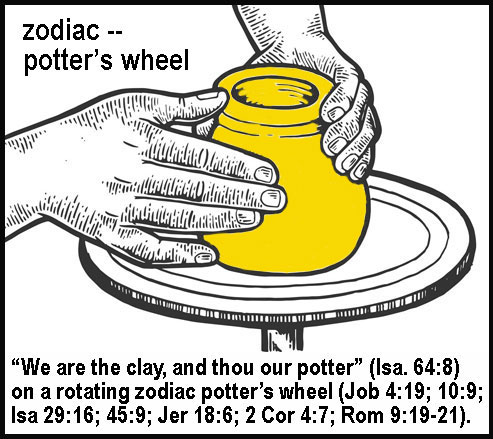 • Red/Scarlet
-- Sin/corruption (Isaiah 1:18, Nahum 2:3, Revelation 17:1-4) or sacrifice (Rev. 19)
• Red Radius Line
-- "My tongue is the (red radius) pen of a skillful writer" (Ps. 45:1).
• Reapers
-- Angels (Matthew 13:39)
• Ram
-- Medo Persia (Daniel 8:20)
• Ribs (three)
-- Babylon, Egypt and Lydia (Dan. 7)
• Righteousness
-- All thy commandments (Ps. 119:172)
• Ring
-- Authority (Genesis 41:42-43, Esther 3:10-11)
• Rock
-- Jesus / truth (1 Corinthians 10:4, Isaiah 8:13-14, Romans 9:33, Matthew 7:24)
• Red horse
-- Roman war (Matt. 24:6)
• Rooster
-- "before the cock crow twice, thou shalt deny me thrice" (Mark 14:30). Lepus (rabbit) is alternately a rooster.
• Rod
-- anger & correction (Isa. 10:5,24; Lam. 3:1; Pr. 10:13; 22:8,15); (measuring) rod -- canon of Scripture (Rev. 11)
• Race
(Olympic)
-- The Christian life (Heb. 12:1; 1 Cor. 9:24-26; 2 Tim. 4:7; Phil. 3:13-14) of the Saxon Race which is the White Race primarily at the present time. Notice "his people ... all his saints ... the children of Israel" (Ps. 148:14). "You only have I known of all the families of the earth" (Amos 3:2). "I called him (Abraham) alone" (Isa. 51:2).
•
Rebuke
-- Show the ignorant sinner where he is wrong lest you be held accountable for his mistake (Lev. 19:17; Pr. 26:5; Ez. 33; Matt. 18:15-18). But why behold a speck in your neighbor's eye if you have a log in your own? (Matt. 7); Also "He that passeth by, and meddleth with strife not belonging to him, is like one that taketh a dog by the ears" (Pr. 26:17). "I cannot hold my piece" (Jer. 4:19).
• Revenge
-- As 1 Peter 3:9 says, "Not rendering evil for evil, or railing for railing: but contrariwise blessing; knowing that ye are thereunto called, that ye should INHERIT A BLESSING" when dealing with LEGAL AUTHORITY. This is because we reap what we sow. But on the other side of the coin, "eye for eye" is biblical and "the rest will hear and fear" (Deut. 19:18-21) when you are the LAW. "Do unto him, as he had thought to have done unto his brother" (Deut 19:19). "For you tolerate it, if a man orders you around, takes what is yours, puts on airs of superiority or slaps you on the face" (2 Cor. 11:20). Why tolerate evil? Why "strengthen the hands of evildoers" (Jer. 23:14)? "Shouldest thou help the ungodly and love them who hate the Eternal? Therefore there is wrath upon thee from before the Eternal" (2 Chr. 19:2)? "Because sentence against an evil work is not executed swiftly, the hearts of men are set in them to do evil" (Eccl. 8:11). (See 1 Pet. 2:21-23; 3:9; Eph. 4:31-32; Rom 12:17-21; 1 Th. 5:15; Pr. 24:29).
• Rights & Responsibilities
-- Rights are proportional to responsibilities. They are two sides of the same coin. Those who won't fulfill their responsibilities, forfeit their rights. The right to life only exists for those who don't murder. The right to private property only exists for those who don't steal. The right to freedom only exists for those who are law-abiding respecting other's freedom. A Sabbath-breaker is legally dead, even though he is defacto alive. An idolater who gives presents to a tree on the winter solstice is legally dead even though he is defacto alive. A sacrilegious thief (non-tither) is legally dead even though he is defacto alive. Those on death row have no rights. Dead men have no rights to complain about anything-- even if they are still alive.
• Resonance
-- An alternative to contagious virus theory (viruses don't cause disease): If you put DNA or RNA in water (beaker one); then put a collection of nucleic acids (the chemicals that make up the DNA and RNA) in a separate water beaker (beaker two), in another part of the room; then shine UV or infrared light on beaker one; in time the exact same sequence of DNA or RNA will form out of the raw materials in beaker two. No study has proven that any virus is contagious. Viruses are not alive.
• Seed
-- Descendants / Jesus (Romans 9:8, Galatians 3:16)
• Salt
-- Preservative from corruption and decay (righteous thoughts, words and actions) (Matt. 5:13)
• Sin
-- Transgression of the law (1 John 3:4); whatsoever is not of faith (Rom. 14:23).
• Stone
-- Christ's kingdom; Britain (Dan. 2); Jacob's Bethel Stone of Scone
• Stone heart
-- unconverted (Ez. 11:19; 36:26; 2 Cor. 3:3); smitten (converted)
• Silver
-- Pure Words & Understanding (Proverbs 2:4; 3:13-14; 10:20; 25:11, Psalms 12:6)
• Serpent
-- Satan (Revelation 12:9; 20:2).
• Sackcloth
-- Sackcloth is black (Isa. 50:3; Rev. 6:12) and is associated with mourning (Ps. 30:11). Two witnesses wear sackcloth (Rev. 11:3).
• Stick
-- Scepter (Ez. 37:16-17) From 917 BCE to 1603 CE = 2520 English [Joseph's] and Scottish [Judah's] crowns and thrones were as separate as two sticks.
• Star (fallen)
-- fallen angel (not Gabriel but Lucifer)(Rev. 9:1)
• Sword
-- Word of God (Eph. 6:17, Heb. 4:12). "His maker gives him his sword" (Job 40:19). Two-edged sword (Rev. 1:16; 2:12,16; Heb. 4:12). Both Old & New Testaments proceed out of Christ's mouth. Two witnesses.
• Speak
-- Meditate -- "Speak to (Meditate about) the earth" (Job 12:8); Judges 5:10; Ps. 69:12 and Ps.145:5 use the same word (7878) translated "speak".
• Scythian
-- Herodotus says, "SACAE is the name the Persians give to all SCYTHIAN tribes" (7:64) because "in ISAAC shall thy seed be called" (Gen. 21:12).
• Seal
-- Holy Spirit in our hearts (Eph. 1:13; 2 Cor. 1:22; Rev 7:2-3) "The Lord knows them that are his" (2 Tim. 2:19) "Grieve not the Holy Spirit of God, whereby ye are SEALED unto the day of redemption" (Eph 4:30).
• Swamp
-- The great whore "sitteth upon MANY WATERS" (Rev. 17:1) and Babylon "dwelleth upon MANY WATERS" (Jer. 51:13). Recall that the Euphrates (Tiber; Hudson) ran through Babylon (Rome; NY) and sometimes OVERFLOWED its banks. Meccah's Kaaba was located in a valley and rains created a FLOOD problem. Sholtz, Watson, Abrahams, Murchison, and Paddock (and Bowman) spell SWAMP.
•
Shiloh
-- "Go wash in the pool of Siloam, which is by interpretation, SENT" (John 9:7) The Vulgate Latin translation renders Shiloh (Gen. 49:10) as "He who is or shall be SENT". "As the Father hath SENT me, so SEND I you" (John 20:20). Hence, Paul calls "Jesus Christ the Apostle, ie "the One SENT" (Heb. 13:1).
• Sukkot
-- "We that are in this TABERNACLE (Greek "skenoma") do groan, being burdened ... that MORTALITY might be swallowed up in life" (2 Cor. 5:4). "Know ye not that your BODY is the temple of the Holy Spirit" (1 Cor. 6:19) for about "threescore and ten" years (Ps. 90:10). "God hath said, I will DWELL IN THEM and walk in them" (2 Cor. 6:16).
• Saints
-- "his people ... all his saints ... the children of Israel" (Ps. 148:14). "You only have I known of all the families of the earth" (Amos 3:2). "I called him (Abraham) alone" (Isa. 51:2). "Ye are no more strangers and foreigners, but fellow citizens with the saints and of the household of God" (Eph. 2:19). Saint, sanctify and sanctification mean separated, separate and separation.
• "Some"
-- "in the latter times (Christian dispensation -- 1 Pet. 1:20; Gen. 49:1,10) SOME shall depart from the faith" which means MANY -- the Roman Catholic Church. For instance, "If SOME of the branches be broken off.... God hath concluded them ALL in unbelief" (Rom. 11:17, 32); and when Paul mentions "SOME of the Israelites as idolaters", Moses specifies the same as "ALL the people" (1 Cor. 10:7; Ex. 32:3, 6). Also, when Paul spoke of "SOME" murmurers, Moses described them as "ALL the children of Israel" (1 Cor. 10:17; Nu. 14:2).

• Smoke
-- Heresy that obscures the light (Rev. 9:2) or God's anger (2 Sam. 22:9; Deut. 29:20). Thy Word (the Bible) is a lamp (Ps. 119:105); therefore the Koran must be dark smoke that obscures that light.
• Shadows
-- Priests who offer GIFTS "serve unto the example and SHADOW of heavenly things" (Heb. 8:5); "For the law having a SHADOW of good things to come, and not the very image of the things, can never with those SACRIFICES which they offered year by year continually make the comers thereunto perfect" (Heb. 10:1).
• Sabbath
-- Rest from Friday sunset to Saturday sunset. A type of the Millenium after 6000 years: "a thousand years is as a day" (2 Pet. 3:8; Ps. 90:4; Heb. 4:9; Col. 2:16-17; Rev. 20:1-6) Adam died the 1st day after living 930 years since "in the day thou eatest thereof, thou shalt surely die" (Gen. 2:17).
• Sam -- the last representative judge of Israel (Ex. 20:19; 1 Sam 8:7) that God spoke through was rejected in favor of a human king instead. ("persona non grata") Uncle Sam has been rejected by Americans. Manasseh ("Forget") forgot God. Using "separation of church and state" as an excuse, the Bible has been removed from our schools and government. "The LORD said unto SAMuel, Hearken unto the voice of the people in all that they say unto thee: for they have not (only) rejected thee, but THEY HAVE (also) REJECTED ME, that I should not reign over them." (1 Sam. 8:7) The Bible is how he COACHES us and TRAINS us to transform us into "Sam-sons".
• Second Coming (When?) -- Just as there were 2000 cubits between the Ark and the Israelites, so there are 2000 years between 26-27 AD and 2026-2027 AD. From when "Babylon the great is fallen, is fallen" (Rev. 18:2) on 11 Sept. 2001 (sun fire in Ophiuchus) till "in the (lunar) cup which she (Virgo) hath filled fill to her double" (Rev. 18:6) is 300 degree months bringing us to 2026. From when the Philadelphia Era began in 1517 with the "open door" of the Protestant Reformation (sun in Sagittarius) till the lunar "crown" (Rev. 3:11) on Taurus that is a two-pronged key that "opens" (+149
°
) and "shuts" (+360
°
) (Rev. 3:7) is 2026. From when "a branch shall grow out of his (Jesse's) roots" (Scorpio's eight limbs look like roots) in 26 AD till "ye (Canis Major) draw water out of the (solar & lunar) wells of salvation" (Isa. 12:3) is 2000 years ending in 2026. From when "he (Auriga) sat on the (Milky Way) Mount of Olives" and "the (Gemini & Orion) disciples came unto him privately saying, Tell us when shall these things be and what shall be the (Zodiac) sign of thy coming, and of the end of the world?" (Matt. 24:3) in 30 AD till "the eagles (Lyra, Aquila) be gathered together" (Matt. 24:28) and "they shall (lunar eyeball) see the (Sagittarius) son of man coming in the (Milky Way) clouds of heaven with power and great (solar) glory" (Matt. 24:30) is 2026 AD. From when the (lunar) axe is laid at the (Scorpio) root" (Matt. 3:10) till (Perseus' "sword" and Hercules' "club") fan is in his hand, and he will thoroughly purge his floor, and gather his (solar golden) wheat into the garner" (3:11-12) is 2026 AD. From when our Lord "weighed the (brown lunar crescent) mountains in (Libra) scales" (40:12) and "the nations ... as the small (brown) dust of the (Libra) balance" (40:15) in 539 B.C. till our Lord (Sagittarius) "measured the (blue solar) waters in the hollow of his hand, and meted out (blue solar) heaven with the (red radius line compass) span" (the distance between the tip of the thumb and the tip of the little finger when the hand is fully extended)(40:12) and "Behold, the nations are as a (blue) drop of a (black Zodiac circle) bucket" (40:15) in 2026 A.D. is 2564° years till He brings "his (solar blue earth -- "they shall inherit the earth" -- Matt. 5:5) reward ... with him" (40:10). "They that wait upon the Lord shall renew their strength (a resurrection in 2026 A.D.); they shall mount up with wings as eagles (Aquila; Lyra; Cygnus); they shall run, and not be weary; and they shall walk, and not faint (in a resurrection in 2026 A.D.) (40:31). From when "I will turn back the weapons of war that are in your hands (lunar shield and red radius line spear held by Gemini), wherewith ye fight against the king of Babylon, and against the Chaldeans, which besiege you without the (red radius line) walls, and I will assemble them (Gemini) into the midst of this city" (Jer. 21:4) and "Mine (lunar red) heart within me is (half moon) broken because of the prophets; all my (Milky Way) bones shake; I am like a drunken man, and like a man whom (a red lunar cup of) wine hath overcome ... For the land is full of (red radius line) adulterers ... For both prophet and priest (Gemini) are profane (red moon); yea, in my (red radius line) house have I found their wickedness, saith the Lord" (23:9-11) and "I will ... make them drink the (red lunar) water of gall" (a metaphor for snake venom -- Deut 32:33) (23:15) because "they are prophets of the (lunar red) deceit of their own heart" (23:26) "that use their (lunar red) tongues, and say, He saith" (23:31) to their "perpetual shame" (red radius line in Canis Major) (23:40) in 585 B.C. until "I will gather the remnant of my flock out of all countries whither I have driven them, and will bring them again to their (red radius line) folds; and they shall be fruitful and increase" (Coma and Virgo pregnant) (Jer. 23:3) is 2026 AD. From when "I will (red radius line) break his (crescent) yoke from off thy (Taurus) neck, and will (red radius line) burst thy bonds, and (Gemini) strangers shall no more serve themselves of him" (Jer. 30:8) in 539 B.C.; and from when "I was chastised, as a (Taurus) bullock unaccustomed to the yoke" (Jer. 31:18) in 539 B.C. TILL "I will satiate the soul of the (Gemini) priests with (solar white) fatness" (31:14) in 2026 A.D. and men appear to be travailing with child: "Ask ye now, and see whether a man doth travail with child? wherefore do I see every man with his hands on his loins (Gemini), as a (pregnant) woman in travail, and all faces are turned into (solar white) paleness?" (30:6) in 2026 A.D., is seven times around plus 44° years.
Clockwise from "the day that I lifted up mine (Aquarius;Castor; Cepheus) hand unto them, to bring them forth of the land of Egypt (the Exodus in 1446 B.C.) into a land that I had espied for them, flowing (out of Aquarius's bucket) with (lunar white) milk and (solar golden) honey" (Ez. 20:6)(sun in Gemini) till "I will bring you out from the (Gemini) people, and will gather you out of the countries wherein ye are scattered, with a mighty (Aquarius; Castor; Cepheus) hand, and with a stretched out (Aquarius;Castor; Cepheus) arm, and with fury (solar fire from red radius line Aquarius' bucket) poured out" (Ez. 20:34) at the Second Coming of our Lord in 2026 A.D. (moon in Aquarius) is 3471° years which is 9 laps plus 231° years more.
• Sibyl -- Babylonians worshipped the god Sibi as the "collective personification of the seven evil spirits" and the word sibi means seven (Mythology of All Races, Langdon, p.147). The god Sibi seems to have survived in India to this day as Siva, who is also worshipped as a seven-headed serpent (The letters "b" and "v" alternate in many languages). The priestess who claimed to listen to and speak for the serpent was called a sibyl and the books of these priestesses were Sibylline books. The serpent's voice is a hiss, and the hissing letters of our alphabet are called sibilants. The Latin word sibilo means to hiss and is at times directly connected with the voice of the serpent (see this word in Harper's Latine Dictionary). In Apte's Sanscrit dictionary we find Siva defined as "serpent" and "the number seven." Our own word "seven" seems to be related to this Sibi-Siva root as is also the root sep meaning "seven" in such words as septet. In Egypt the word Sep is defined as "serpent," "chief of seven," the word "Seba" is "serpent of evil" and Sepa is "serpent." (An Egyptian Hieroglyphic Dictionary, Budge) and "a mythological serpent fiend." On the other hand, the name "Sibyl" in Hebrew means "an ear of corn" (grain) pointing to Virgo the Virgin. In this constellation we find Subilon (a spike of wheat) and Subilah (who carries). The plural is "Shibboleth." Therefore, when the CHURCH (Sibyl) is righteous, she is VIRGO, or a seven-branched MENORAH. When the CHURCH (Sibyl) sins, she is a seven-headed SNAKE. "He says he means to clear his mind of me" refers to those who left AC and the WCG because of its VENOM. "Let's not quibble Sibyl!" A Bible follower must leave the WCG (Sibyl) and must also leave the UNITED STATES (Sibyl) in order to be free to obey the Bible.
• Star -- Who are the STARS? The seven lighted wicks or "STARS" or "angels" are messengers of the seven churches (Rev. 1:16,20; 12:4, 7-9; Job 38:7) -- the LEADING human TEACHER of each church. The Torah READER (Luke 4:16; Acts 13:15,27; 15:21) or WRITER or MESSENGER (Haggai 1:13) of the Synagogue was known as the "angel" of the Synagogue. "Angels" (Heb. "elohim") can refer to human "judges" or "rulers" (Ex. 22:8,28; Ps. 82:6). The twelve STARS in Joseph's dream represented the LEADERS of the twelve tribes of Israel (Gen. 37:9-10). In Balaam's prophecy, our LORD is a "STAR out of Jacob" (Num. 24:17-19). The little horn "cast down ... the STARS to the ground, and stamped upon ... the MIGHTY and the HOLY PEOPLE" -- Jews and Christians (Bible followers) (Dan. 8:9-24). "They that turn many to RIGHTEOUSNESS" are like "the STARS" (Dan.12:3). Our Lord says, "I am ... the bright and morning STAR" (Rev. 22:16). "STARS" therefore represent RIGHTEOUS RULERS described as burning wicks. "And there shall be (Zodiac) signs in the sun, and in the moon, and in the stars" (Luke 21:25).
• Sun -- The SUN is not to be worshipped. It is a servant (shemesh) that visually becomes part of the constellation it is travelling through. "And there shall be (Zodiac) signs in the sun, and in the moon, and in the stars" (Luke 21:25). The sun is one of seven "EYES" of the Lamb (Aries) (Rev. 5:6) or the flaming "EYES" of Sagittarius (1:14; 2:18; 19:12). It is one of the "SEALS" keeping the Milky Way scroll closed (6:1; 8:1) or Satan (Cetus) bound (20:3) or God's servants protected (7:3). It is a "golden CROWN" on Sagittarius's head (2:10; 6:2; 9:7; 14:14) or "ten CROWNS" on the ten horns of Cancer (13:1). It is a "golden CENSER" (8:3) in the hand of Sagittarius, and a "golden ALTAR" (9:13) of Capricorn -- since both a goat and an altar have horns. The SUN is the "FACE" (10:1) or halo of Orion and "FIRE" in Gemini (11:5; 13:13; 16:8; 20:9) or Cancer (17:16). The SUN "CLOTHES" Virgo (12:1) and also makes her look pregnant "WITH CHILD" (12:2). The SUN is a "golden CUP" (15:7) or bucket in Aquarius's hand that is poured out, or the "GLORY" (18:1) of Ophiuchus. As a solar eclipse, both SUN and MOON form a "BOTTOMLESS PIT" (20:1) or "LAKE OF FIRE" (20:10,14-15) in Aries or Virgo (21:8) (and GOLD RING). The sun is also a symbol for Jesus / the gospel (Psalms 84:11, Malachi 4:2, Matthew 17:2, John 8:12; 9:5)
.
• Shem
-- "Sem" executed Nimrod (Wilkinson, Egyptians vol.5, p.17) "by the power of God" and then cut his body into pieces (vol.4, pp.330-332; cp. Judges 19:29) or tearing him limb from limb (p.81, Sanchoniathon). Shem was also known as "Sheth" (Num. 24:17). Typho was called Seth (Epiphanius, Adv. Haeres., book 3). Plutarch gives to Typhon the titles of "Seth" and "Smy", and the latter in Greek would be "Smu" which is evidently the same as "Semu". Therefore, another account reads: "Set, the brother of Osiris, rebelled against him and cut his body in pieces" (Rawlinson's Egypt and Babylon). Both Seth and Shem are synonymous and mean "the appointed one" (p.65, Hislop). He was called Sydyc (Melchizedek -- p. 47. Sanchoniathon). "Adonizedek king of Jerusalem, the same was Shem" (Jasher 16:11). Just as Nimrod was torn in pieces in Babylon by the hand of Shem when his body was dismembered and the pieces distributed throughout the cities of Nimrod's dominion, so also Orpheus was torn to pieces in Thrace, and Bacchus was torn to pieces in Greece, and Osiris was torn to pieces in Egypt. As further proof that Typhon was Titan, or Shem, it is related by Plutarch that when Typhon was subsequently conquered, he fled away and begat Hierosolymus and Judaeus (Plutarch De Iside, S. 31; Cumberland's Sanchoniathon, p.108). That is Hierosalem, or Jerusalem, and Judea. This is a mystical way of saying that he was the founder of Jerusalem and the ancestor of the Jews. This tends to identify Shem with Melchizedek, whose name means "righteous king," and who was king of Salem or Jerusalem. As "priest of the Most High God" (Heb. 7:1), he was evidently the origin of the name Jerusalem, or Hierosalem, "Hieros" or "Hiereus" meaning "priest." Typhon overcame Osiris "not by force or open war, but, having entered into a conspiracy with SEVENTY-TWO of the LEADING MEN of Egypt, he got him into his power and put him to death, and then cut his body into pieces and sent the different parts to so many different cities throughout the country" (Wilkinson's Egyptians 4:330-332). This agrees with Diodorus who reported that Egypt was divided into SEVENTY-TWO Nomes and each had a JUDGE (Diodorus 1:48-58; Hislop, p.64 note). Ancient Greeks recognized Shem as Typhon of Egypt and he was also recognized as such by Herodotus (485-425 B.C.) and Plutarch (46 B.C.). Plutarch says that Shem was a fair person with a red complexion. "TYPHON HAD RED HAIR" (De Iside et Osiride , 362. xxx). Shem (Typhon -- a derogatory name applied to him by the Egyptians) "was red in complexion" and "had red hair." For an account of Nimrod's death at the hands of Shem (Typhon) see Diodorus of Sicily, Vol. I, Book 1, para. 21, and para. 88. Notice the following interesting quote: "RED oxen, however, may be sacrificed, because it is thought that this was the colour of TYPHON (Shem), who plotted against Osiris [another name for Nimrod] and was then punished by Isis [Semiramis] for the death of her husband. Men also, if they were of the same colour as Typhon, were sacrificed, they say, in ancient times by the kings at the tomb of Osiris; however, only a few Egyptians are now found RED in colour, but the majority of such are non-Egyptians" (Diodorus of Sicily, Book I, para. 88)
.
• Scorpions
-- "children of Israel" (Ez. 2:6; Amos 7:8); Roman catapults called "SCORPIONS" threw stones weighing a TALENT each (Wars 5:6:3; Rev. 9:10; 16:21) in 70 AD. Being around "rebellious" "impudent" and "stiffhearted" men is like dwelling "among SCORPIONS" (Ez. 2:6). Rehoboam's reply to the deputation who wanted him to lighten the tax burden was, "I will chastise you with SCORPIONS" (2 Chr. 10:14) or impose OPPRESSIVE TAXES. In 612 A.D. Mohammed publicly proclaimed his mission to convert all so-called Christians and infidels to the Koran. These were Greek and Latin "CHRISTIANS" who were image-worshippers and idol-worshippers in practice -- who weren't "SEALED with the Holy Spirit" (Eph. 1:13) because they didn't depart "from iniquity" (2 Tim. 2:19). Moslems called them "dogs and infidels" and treated them accordingly. Arabs offered conquered peoples the choice of accepting the Koran, or of PAYING TRIBUTE MONEY, or of death by the sword (scimitar like a scorpion tail in shape and thrust point first just like a scorpion tail would strike). Christians could buy their liberty to continue in their own religion, but only at the cost of HEAVY TRIBUTE. This is the meaning of "as the torment of a SCORPION." See Jeremiah 8:3 and Job 3:2 for examples of those who prefer death to life. Historians often refer to Papal Edicts and Bulls as the "thunders" from the seven-hilled city of Rome. Therefore we read that "seven thunders uttered their voices" (10:3) in reply. Gibbon uses the word and says "The spiritual thunders of the Vatican depend on the force of opinion; if that opinion be supplanted by reason, the sound may idly waste itself in the air" (ch. 70). Luther said, "Terrible as the lightning and the thunder, fulminatory Bulls and anathemas impended over the heads of those who incurred pontifical displeasure" (Antichrist Revealed, p.47). John was told to "write them not" (10:4) because he was only to "write ... true and faithful" words (Rev. 21:5). Similarly, Luther replied to the Pope's final Bull thundered in June 1520, by gathering an audience outside the walls of Wittenberg where he deliberately burned the Papal Bull and Edicts. In this manner the "seven thunders" were "sealed up" (10:4) which is portrayed astronomically by a full moon SEAL pushed onto Scorpio's SEVEN-segmented, poisonous stinger -- 1 Cor. 15:56. (1633 A.D. -- 180 degree-years from Orion) The full moon censors libel and blasphemy ("the sting of death is sin" -- 1 Cor. 15:56) while the sun radiates truth. What happened on this lunar date? What was the pope's libel? If we add 180°
YEARS
,
we arrive at 1633 when Papal bulls and edicts were "thundered" from the seven-hilled city of Rome (seven-segmented Scorpio stinger -- 1 Cor. 15:56) to condemn
Galileo for believing in HELIOCENTRISM. The
Papal condemnation of Galileo for
"having believed and held the doctrine
,
which is false and contrary to the sacred and divine Scriptures, that the Sun is the center of the world and does not move from east to west and that the Earth moves and is not the center of the world" -- June 22, 1633 -- required hi
m
to recant by swearing an oath. Is the earth stationary and do the sun, moon, and planets revolve around it perhaps once per day (cp. Ps. 93:1, 96:10, 104:5, 1 Chr. 16:30 and Eccl. 1:5)? Galileo believed that the earth was ROTATING which can be proven with Foucault's PENDULUM (Scorpio and the FULL MOON plumb bob suspended from Scorpio's stinger with red radius line string) swinging in a constant plane of oscillation (Milky Way path) from one side (the lunar extreme) to the other (the solar extreme) yet appearing to travel in a full circle (Zodiac) in 24 hours at the poles and 48 hours at 30 degrees latitude. Once again, the FULL MOON NEUTRALIZES Scorpio's stinger using it as a pendulum.
"SEAL up those things which the seven thunders uttered" (red lines represent speech)
(
10:4). To prove that the earth REVOLVES around the SUN, simply observe the same section of sky six months apart (SUN and MOON positions 180° apart) with a telescope and the stars (black zodiac) will seem to shift positions due to PARALLAX. Also RETROGRADE MOTION of planets is most easily explained by HELIOCENTRIC model...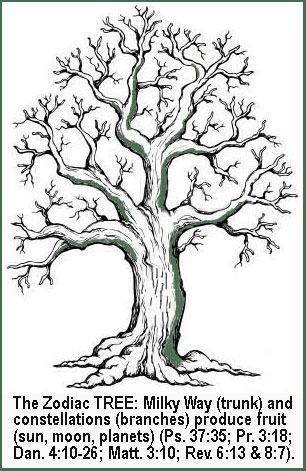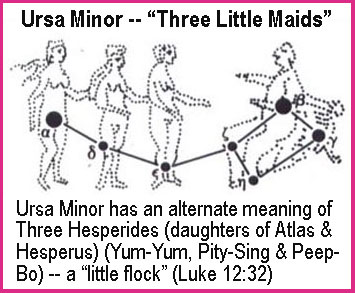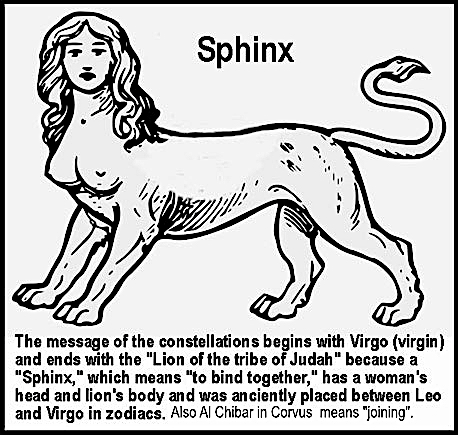 • Tail
-- false prophet (Isa. 9:14-15)
• Ten tribes (lost)
-- ten servants (Luke 19:11-27); ten virgins (Matt.25); ten pieces of silver (Luke 15:8) or ten lepers (Luke 17:12)
• Tithing
-- Ten percent of your increase is the Lord's. Otherwise you're a thief.
• Tongue
-- Language / Speech (Exodus 4:10)
• Time
-- 360-Day-Year (Daniel 4:16, 23, 25, 32; 7:25; Daniel 11:13 margin); Times -- 720 Days (Daniel 7:25, Revelation 12:6, 14; 13:5)
• Trumpet
-- alarm; loud warning of God's approach (Exodus 19:16-17, Joshua 6:4-5; Joel 2:1)
• Thief
-- Sudden, secret rapture coming to "steal" his bride (1 Thessalonians 5:2-4, 2 Peter 3:10); "taken" (Matt. 24:40-41)
• Thorns / Thorny Ground
-- Cares of this life (Mark 4:18-19)
• Tables of the Covenant
-- Ten Commandments (Deut. 9:9,11)
• Truth
-- God's Word (John 17:17)
• Tree of Life
-- Obedience to the Bible (Rev. 22:14)
• Temple
-- assembly of believers (1 Cor. 3:9,16; 6:19).
• Tabernacle
-- human body (2 Cor. 5:1)
• Toledoth
-- Each section of Genesis which carries on the purpose of the book begins with the phrase "These are the generations of" (5:1; 6:9; 10:1; 11:10; 11:27; etc). The word Toledoth ("generations") refers not to what goes before, but to what comes after. The toledoth of Abraham are those who sprang from him, not those from whom he sprang. In Ruth 4:18, the toledoth of Pharez are his descendants, not his ancestors. The choice of the line of blessing mankind is narrowed more and more. First it is Shem's, then Terah's, then Abraham's, then Isaac's, then Jacob's. Therefore "the toledoth of the heavens and the earth" (2:4) are not the origin of the heaven and earth; they are on the contrary, the things for which the heavens and earth were created, namely man and human history. The critics blunder. It's not a second account of Creation in reverse order at all. But a description of the origin of the garden of Eden which was created after Adam was formed. Every new section of the book begins with just such a recapitulation. Its never a mere repetition.
• Times
-- Don't observe "TIMES" (Lev. 19:26; Deut. 18:10-14). Paul is referring to pagan celebrations in Gal. 4:8-11 (Sunday, Easter, X-mas). "Many were superstitiously addicted to the observance of TIMES, and made divination and conjectures upon them ... In the celebration of these TIMES (they) set up lamps in the marketplace, and crown their doors with garlands" (Bingham's Antiquities of the Christian Church, pp. 1123,1124).
• Tree-Worship
-- "Shall I bow down to a tree trunk?" (Jer. 44:19) "When ye offer your gifts ... ye pollute yourselves with all your idols" (Ez. 20:31). Thus saith the Eternal, Learn not the way of the heathen ... For the customs of the people are vain; for one cutteth a
TREE
out of the forest, the work of the hands of the workman, with the axe. They
DECK
it with
SILVER
and with
GOLD
; they fasten it with nails and with hammers, that it move not. They are upright like the palm tree, but speak not" (Jer. 10:2-5). "Little children, keep yourselves from IDOLS" (1 John 5:21). "A CORRUPT TREE bringeth forth EVIL fruit" (Matt. 7:17). "Thou shalt take up this proverb against the king of Babylon ...The Lord has broken the rod of the wicked ... All the lands are at rest and at peace; they break into singing. Even the
PINE TREES
and the cedars of Lebanon exult over you and say, ' Now that you have been laid low, no woodsman comes to
CUT US DOWN
'" (Isa. 14:5-8).
• Tree
-- Cross; People (Isa. 61:3); Nation (Deuteronomy 21:22-23, Psalms 92:12; 37:35). "All flesh is GRASS" (Isa. 40:6; 51:12) and "the glory of man like the FLOWER" (1 Pet. 1:24; James 1:10). "When the wicked spring like GRASS and ... do flourish... they shall be destroyed forever" (Ps. 92:7). All human rulers are TREES. "The TREE ... it is thou" (Nebuchadnezzar) (Dan. 4:20-22). "The Assyrian was a CEDAR" (Ez. 31:3; Judges 9:8-15). King David sang, "I am like a green OLIVE TREE " (Ps. 52:8) and the Jewish nation is likened to a FIG TREE (Luke 21:29-31). Green trees signify the righteous and dry trees the wicked (Job 15:30; Ps. 1:3; Jer. 17:8; Ez. 20:46-47; 21:3-4; Hosea 14:8; Luke 23:31). The two olive trees of Romans 11 are Jews (good) and "Gentiles" (Greek Israelites -- wild) and thus Paul defined Rev. 11. "ISRAEL ... his beauty shall be like the OLIVE TREE" (Hos. 14:6). "The Eternal called thy name, A green OLIVE TREE... house of ISRAEL and ... house of JUDAH" (Jer. 11:16; see also Zechariah 4:3,11-14 and Romans 11). Isaiah 61:3 also mentions these "TREES of RIGHTEOUSNESS."
• Turning the Other Cheek
-- Not good:
"For you tolerate it, if a man orders you around, takes what is yours, puts on airs of superiority or slaps you on the face" (2 Cor. 11:20). "Like a polluted fountain is a righteous man who gives way before the wicked" (Pr. 25:26). Yet very good: "Ye have heard that it hath been said, An eye for an eye, and a tooth for a tooth: But I say unto you, That ye resist not evil: but whosoever shall smite thee on thy right cheek, turn to him the other also. And if any man will sue thee at the law, and take away thy coat, let him have thy cloke also. And whosoever shall compel thee to go a mile, go with him twain. Give to him that asketh thee, and from him that would borrow of thee turn not thou away" (Matt. 5:38-42). It depends on whether you're dealing with a POLICE OFFICER, JUDGE or just a BULLY.
• Unclean (person or thing)
-- Not immersed in water; not baptized. Since uncleanness is inevitable, why did Paul say no unclean person will inherit the Kingdom of God? (Gal. 5:19-21; Eph.5:3-6; Col. 3:5-6; 1 Cor. 6:9-10) Because some uncleanness is a deliberate choice: eating pork, ham, bacon, clams, crabs, shrimp, fat or blood; masturbating for men and refusing to practice Niddah (separation & bathing after menstruation every 28 days) for women. Even petting dogs. Shaking hands.
• Usury
-- "If thou lend money to any of MY PEOPLE that is poor by thee, thou shalt not be to him as an USURER, neither shalt thou lay upon him USURY" (Ex. 22:25). "Take thou no USURY of him, or INCREASE: but fear thy God; that thy BROTHER (torah-keeper -- Mark 3:35) may live with thee" (Lev. 25:36). "Lord, who shall abide in thy tabernacle? ... He that putteth not out his money to USURY" (Ps. 15:1-5). Ezekiel 18:13 speaks of one who "Hath given forth upon USURY, and hath taken INCREASE: shall he then live? he shall not live: he hath done all these abominations; he shall surely die; his blood shall be upon him." Deuteronomy 23:19 says, "Thou shalt not lend upon USURY to thy BROTHER (torah-keeper -- Mark 3:35); USURY of money, USURY of victuals, USURY of any thing that is lent upon USURY." Even 1% INTEREST is forbidden (Neh. 5:7-11)."The BORROWER is servant to the lender" (Pr. 22:7). "He that by USURY and UNJUST GAIN increaseth his substance, he shall gather it for him that will pity the poor" (Pr. 28:8). "Unto a STRANGER (Heb. "nokri" -- wicked enemy nation who disobeys the torah) thou mayest lend upon USURY; but unto thy BROTHER (torah-keeper -- Mark 3:35) thou shalt not lend upon USURY: that the Lord thy God may bless thee" (Deut. 23:20). "Also thou shalt NOT OPPRESS a STRANGER (Heb. "ger" -- sojourner in Israel who obeys the torah): for ye know the heart of a stranger, seeing ye were strangers in the land of Egypt" (Ex. 23:9). "Ye shall have one manner of law, as well for the STRANGER (no USURY for torah-keeper), as for one of your own country (no USURY for torah-keeper): for I am the Lord your God" (Lev. 24:22) "And if thy BROTHER be waxen poor, and fallen in decay with thee; then thou shalt relieve him: yea, though he be a STRANGER, or a sojourner; that he may live with thee. Take thou no USURY of him, or INCREASE: but fear thy God; that thy BROTHER (torah-keeper -- Mark 3:35) may live with thee. Thou shalt not give him thy money upon USURY, nor lend him thy victuals for INCREASE" (Lev. 25:35-37). But Christians quote Matthew 25:27 to justify USURY. The way it should be understood, the servant says, "I know you're a covetous crook, reaping the harvest of others. So I played it safe and hid your money." The way it should be understood, his master says, "Since that is what you believe, why didn't you put my money in the bank and obtain more DISHONEST GAIN for me through INTEREST?" Far from justifying usury, this parable actually condemns it (cp. Luke 19:11-27). The Parables of the Talents doesn't reverse the Old Testament condemnation of interest. While the master chastises the lazy servant for burying his talent, and unfavourably compares this with putting the money out at interest, he judges the servant 'by his own words'. If the servant had truly believed that his master was a 'hard man', then he should have put the money out at interest, since this is what would be expected. Receiving interest is 'reaping where one has not sown' – it is what hard men do (Luke 19:22, 23). There is a clear distinction between risking money actively in a business venture and putting it on deposit at interest – reaping where one has not sown.
• Vineyard
-- Church that should bear fruit (Luke 20:9-16); house of Israel (Isa. 5:7)
• Vine --
Children of Israel (Ps. 80:8; Hos. 10:1); men of Judah - vine of Sorek (Isa. 5:1-7; Jer. 2:21); Jesus - the true vine (John 15:1)
• Venom
-- False criticism (Rom. 3:13); cursing and bitterness under their lips (Ps. 140:3); bitter words (Ps. 64:3-8).