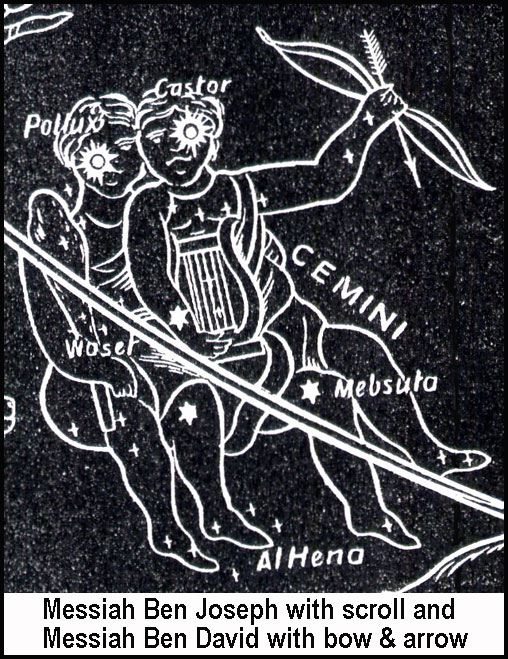 Messiah Ben Joseph & Messiah Ben David
Does the king who reigns over all the earth come gently and in peace, riding on a donkey (Zech. 9:9-10)? Or does he come with great wrath, ready to do battle (Zech. 14:2-4)? Is Zechariah contradicting himself? This is puzzling for Jewish scholars. But this is not the only place in the Bible where we find seemingly contradictory pictures of Messiah. For example, Micah 5 tells us he is born in Bethlehem, the city of David. But Daniel 7 tells us he will arrive, riding on the clouds of heaven. Is the Messiah going to be cut off (killed) as Daniel 9 predicts, or will he come in royal splendor and reign forever, as Isaiah 9 foretells? Is he the suffering servant of Isaiah 53 or a royal king portrayed in Psalm 2?
In response to these TWO seemingly opposite pictures of Messiah, some rabbis have decided that there must be TWO MESSIAHS, the Messiah ben Yosef who would come and suffer and Messiah ben David, who would come as a conquering king. Another Jewish tradition explains the two contrasting portraits of Messiah like this: "If the people of Israel will be righteous, the Messiah will come in the clouds of Heaven. If they will not be righteous, he will come as a poor man riding upon an ass" (Sanhedrin 98a). Are such explanations necessary or is it possible that one individual might have a FIRST and SECOND COMING? Someone who would be both a king of peace and a king of power, a humble servant and a conqueror?
The writers of the New Testament were Jewish people, living in the first century, who believed that the prophecies in the Hebrew Scriptures described ONE Messiah, a great king who was to COME TWICE, first as a servant, then as conqueror. They believed that Yeshua (Jesus) was the fulfillment of both expectations. In fact, the name "Yeshua" means "God saves." Though Yeshua did not usher in an age of "peace on earth" as many hoped then and many wish for today, he did offer peace with God to everyone willing to trust in him and the atonement for sin he offered through his death and resurrection.


Two Pictures of Messiah

Suffering Servant (4 BC - 31 AD)
Victorious King (2026 AD -)
1. Origin: BETHLEHEM
"But thou, Bethlehem Ephratah, though thou be little among the thousands of Judah, yet out of thee shall he come forth unto me that is to be ruler in Israel; whose goings forth have been from of old, from everlasting" (Micah 5:2).
1. Origin: HEAVEN
"I saw in the night visions, and, behold, one like the Son of man came with the clouds of heaven, and came to the Ancient of days, and they brought him near before him" (Daniel 7:13).
2. Appearance: ON A DONKEY
"Rejoice greatly, O daughter of Zion; shout, O daughter of Jerusalem: behold, thy King cometh unto thee: he is just, and having salvation; lowly, and riding upon an ass, and upon a colt the foal of an ass" (Zechariah 9:9).
2. Appearance: IN THE CLOUDS
"I saw in the night visions, and, behold, one like the Son of man came with the clouds of heaven, and came to the Ancient of days, and they brought him near before him" (Daniel 7:13).
3. Purpose: GIVES HOPE (obey voluntarily)
"The Spirit of the Lord is upon me, because he hath anointed me to preach the gospel to the poor; he hath sent me to heal the brokenhearted, to preach deliverance to the captives, and recovering of sight to the blind, to set at liberty them that are bruised, To preach the acceptable year of the Lord" (Isaiah 61:1-2) (Luke 4:18-19). (See also Isaiah 11:1-3 and Isaiah 49:6)
3. Purpose: JUDGMENT (enforced obedience)


"But with righteousness shall he judge the poor, and reprove with equity for the meek of the earth: and he shall smite the earth: with the rod of his mouth, and with the breath of his lips shall he slay the wicked. And righteousness shall be the girdle of his loins, and faithfulness the girdle of his reins" (Isaiah 11:4-5). (See also Isaiah 61:2)

4. Purpose: SUFFERING / REJECTION
"For he shall grow up before him as a tender plant, and as a root out of a dry ground: he hath no form nor comeliness; and when we shall see him, there is no beauty that we should desire him. He is despised and rejected of men; a man of sorrows, and acquainted with grief: and we hid as it were our faces from him; he was despised, and we esteemed him not. Surely he hath borne our griefs, and carried our sorrows: yet we did esteem him stricken, smitten of God, and afflicted. But he was wounded for our transgressions, he was bruised for our iniquities: the chastisement of our peace was upon him; and with his stripes we are healed. All we like sheep have gone astray; we have turned every one to his own way; and the Lord hath laid on him the iniquity of us all" (Isaiah 53:2-6) (See also Psalm 118:22)
4. Purpose: VICTORY OVER ENEMIES
"I will gather all nations against Jerusalem to battle; and the city shall be taken, and the houses rifled, and the women ravished; and half of the city shall go forth into captivity, and the residue of the people shall not be cut off from the city. Then shall the Lord go forth, and fight against those nations, as when he fought in the day of battle. And his feet shall stand in that day upon the mount of Olives, which is before Jerusalem on the east, and the mount of Olives shall cleave in the midst thereof toward the east and toward the west ... and the Lord my God shall come, and all the saints with thee. ... And the Lord shall be king over all the earth: in that day shall there be one Lord, and his name one" (Zechariah 14:1-9). (See also Isaiah 11:6-9 and Ezekiel 31:24)
5. Purpose: ATONING DEATH
"And after threescore and two weeks shall Messiah be cut off, but not for himself: and the people of the prince that shall come shall destroy the city and the sanctuary; and the end thereof shall be with a flood, and unto the end of the war desolations are determined" (Daniel 9:26). (See also Psalm 22:14-18 and Isaiah 53:7-9)

5. Purpose: ETERNAL DOMINION
"And there was given him dominion, and glory, and a kingdom, that all people, nations, and languages, should serve him: his dominion is an everlasting dominion, which shall not pass away, and his kingdom that which shall not be destroyed" (Daniel 7:14).
6. Conclusion: RESURRECTED "because you will not abandon me to the grave, nor will you let your Holy One see decay. You have made known to me the path of life; you will fill me with joy in your presence, with eternal pleasures at your right hand (Psalm 16:10-11; John 10:17-18).
6. Conclusion: ETERNAL DOMINION "Of the increase of his government and peace there shall be no end, upon the throne of David, and upon his kingdom, to order it, and to establish it with judgment and with justice from henceforth even for ever. The zeal of the Lord of hosts will perform this" (Isa. 9:7).