Isaiah Walked Naked & Barefoot Three Years


20:1 In the year that Tartan came unto Ashdod, (when Sargon the king of Assyria sent him,) and fought against Ashdod, and took it;
The expedition mentioned in Isaiah 20:1 took place in 711 B.C., and is minutely related in two of Sargon's own inscriptions (see Schrader, Cuneiform Inscriptions, Vol. ii., pp. 89ff. [Engl. Trans.]). Tartan was one of Sennacherib's captains (2 Ki. 18:17), which constrains us to acknowledge that this Sargon was Sennacherib, who had two names, as may be easily learned from this passage.
Tartan] In Assyrian Turtanu, the official title of the "chief of the staff." Cf. 2 Kings 18:17.
Sargon] (Assyr. Sarrukin) the only mention of this now familiar name in the O.T. For long it was supposed to be a second name of either Shalmaneser or Sennacherib (see Tob 1:15), but the conjecture of a few scholars that he would prove to be an intermediate king has been amply verified by the progress of Assyriology; and Sargon is now one of the best known, as he was one of the most vigorous, of Assyrian monarchs. He reigned from 722–705 B.C.
2 At the same time spake the Lord by Isaiah the son of Amoz, saying, Go and (red radius line) loose the (black) sackcloth from off thy loins, and put off thy (lunar crescent) shoe from thy foot. And he (Ophiuchus) did so, walking naked and barefoot.

This verse is an explanatory parenthesis. The command here mentioned must have been given three years before the oracle of Isaiah 20:3 ff.; hence the expression "at that time" must be understood in a loose sense and for spake we must render "had spoken."
"Sackcloth" -- the rough garment of hair or coarse linen worn by mourners in lieu of the customary upper garment; also by prophets (2 Kings 1:8; Zechariah 13:4). It is rather surprising to find that Isaiah wore this distinctive badge of his profession. He is directed to "ungird" (and lay aside) this and walk "naked," i.e. in his under-garment (the kuttôneth), cf. 1 Samuel 19:24; John 21:7. The action was expressive of the deepest degradation, and involved no small sacrifice for a man of Isaiah's position. But that he actually performed it cannot reasonably be questioned. Cf. Micah 1:8.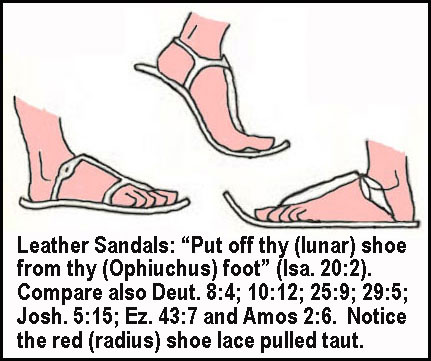 3 And the Lord said, Like as my servant Isaiah hath walked naked and barefoot three years for a sign and wonder upon Egypt and upon Ethiopia;
4 So shall the king of Assyria lead away the (black) Egyptians prisoners, and the (black) Ethiopians captives, young (Gemini) and old (Aquarius and Ophiuchus), naked and barefoot, even with their buttocks uncovered, to the (red radius line in Ophiuchus's face) shame of Egypt.

5 And they shall be afraid and (red radius line) ashamed of Ethiopia their expectation, and of Egypt their glory.
6 And the inhabitant of this isle shall say in that day, Behold, such is our expectation, whither we flee for help to be delivered from the king of Assyria: and how shall we escape?
The effect which the sight of these miserable gangs of captives will produce on the inhabitants of Palestine. This is the real motive of the prophecy. Hezekiah probably took the warning. this isle] strictly: this coastland (as R.V.). The expression is most accurately descriptive of the Philistine country; but must include Judah. Isaiah did not go three years naked and barefoot for the sake of the Philistines. It no doubt embraces the territory of all the states concerned in the conspiracy—"this region."